News
Drake Shares Show Payment From His Early Rap Career
Drake Shares Show Payment From His Early Rap Career
Drake gave his many fans a glimpse into the struggles of his early career on Wednesday when he shared Instagram post that showed he was paid just $100 to open for Ice-Cube in 2006.
The Toronto rapper shared an image of the receipt he was given for his performance as an opening act at an Ice-Cube concert in Toronto.
The show was run at the since-closed Kool Haus venue in the Canadian capital in August 19 2006, when Drake was just starting out his hip-hop career.
It was around that time that Drizzy was changing careers from acting to music.
Up to that point, Drake had been known for his role as 'Wheelchair Jimmy,' in the popular high-school TV drama, 'Degrassi.'
It was likely one of Drake's first ever gigs and in it he performed tracks off of his debut mixtape, titled 'room for improvement.'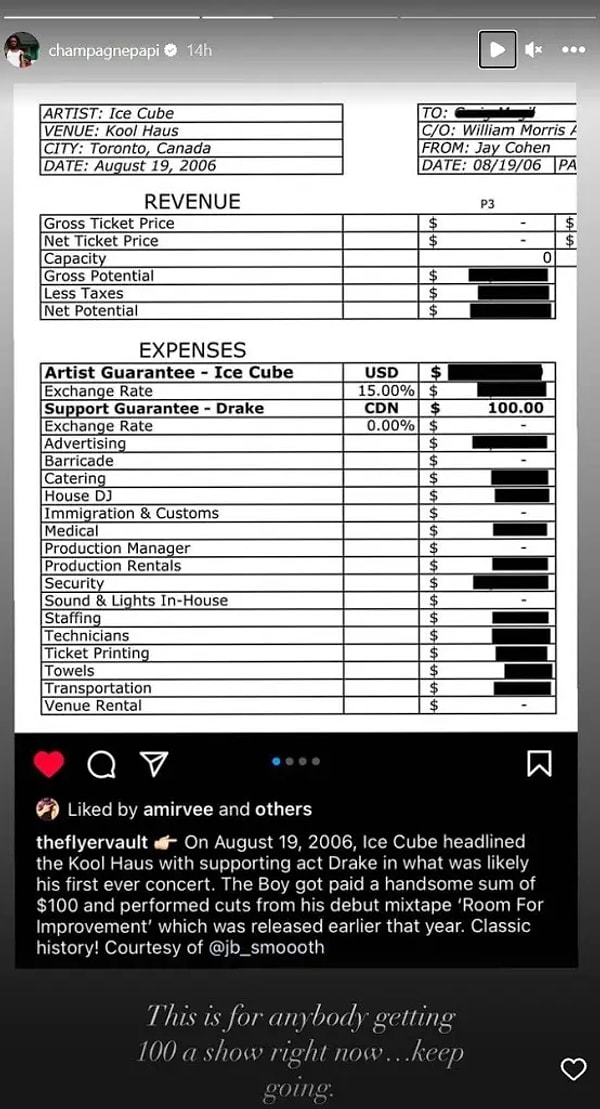 Since then, the hip-hop artist and singer has been one of the genre's most successful artists ever, winning multiple Grammy awards.
He is estimated to be worth over $250 million and he recently became the all-time most streamed artist on Spotify. For this honour, Spotify rewarded him by placing his OVO Owl logo on the jerseys of FC Barcelona in last Sunday's 'El Clasico' Derby with Real Madrid.
The receipt appears to be first shared on Instagram by the 'jb_smooth,' and 'theflyervault' accounts.
Drake then shared it with his followers, commenting that 'This is for anybody getting 100 a show right now...keep going.'
Despite having some role in giving Drake his big break, the last time Ice Cube spoke of Drake he predicted that the Toronto native's time at the top of the rap game would soon come to an end.
The ex-NWA artist and actor spoke on the 'Sana G Morning Show,' in 2018 when he made those comments.
'He had a good run, you've only got a three-year run in the rap game,' Ice cube commented.
'You've only got three years at the tip-top of the rap game before you have to find your place in this thing,' the West coast star continued.
'That's just a pattern. Everybody. Wayne when he was hot, three years on top. T-Pain. Three years on top, looking for someone else," he said.
Ice Cube reacts to Drake Pusha T Beef + New Friday Movie!
Cube's prediction has proven somewhat inaccurate however.
Four years later, Drake is still perhaps, the foremost artist of the hip-hop world. His last music video for 'Sticky,' dropped two months ago, and now has over 17 million views.
Drake - Sticky (Official Music Video)
Scroll Down for Comments and Reactions