News
Hulu's 'The Drop' Showcases How Messy Accidentally Dropping a Baby Can Be
Hulu's 'The Drop' Showcases How Messy Accidentally Dropping a Baby Can Be
Hulu recently dropped the official trailer for its comedy-drama movie directed by Sarah Adina Smith, The Drop, after providing it with a January 2023 premiere date. 
The film joins other Hulu New Year projects such as Death in the Dorms, How I Caught My Killer, Web of Death, and Extraordinary, among others.
What's 'The Drop' About?
Hulu's upcoming movie follows a young couple, Lex and Mani, happily married and operating their long-desired artisanal bakery in L.A. Lex and Mani. The pair believes it has everything on the right track, including careers and professions, and plans to add a new member to their young family. 
An invitation to their friend's wedding seems like the big chance to conceive, having conceded with Lex's ovulation cycle. Unfortunately, heaven turns hell when Lex accidentally drops their friend's infant before all the other friends soon after they arrive. 
The incident was followed by intense accusations, and blame games, attracting uncertainties in the young marriage.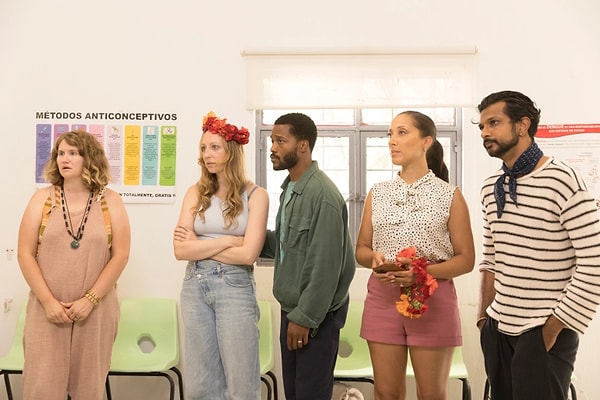 'The Drop' Trailer?
Hulu's two-week-old trailer offers a more profound visual understanding of the film's storyline. Lex accidentally drops their friend's baby soon after they alighted from the van. Everyone must be familiar with how horrifying dropping an infant can be, especially if it's not your baby. 
The Drop showcases Lex and Mani battling all the accusations and everyone doubting if they really want to have a baby, which threatens to cut short the couple's happiness and dreams.
Who Produced 'The Drop'?
The Drop is directed by Sarah Adina Smith, alongside Mark and Jay Duplass as the chief producers. 
Smith also wrote the script with Joshua Leonard for Duplass Brothers Productions, among other Production Companies.
Who Stars in 'The Drop'?
The Hulu upcoming project boasts many talented actors, including Jermaine Fowler (as Mani), Anna Konkle (as Lex), Utkarsh Ambudkar, Jilian Bell, Robin Thede (as Shauna), and Elisha Henig (as Levi). 
Other characters are Jennifer Lafleur (as Peggy), Joshua Leonard (as Josh), and Aparna Nancherla (as Mia).
When is 'The Drop' Officially Launching?
The Drop will hit Hulu's ground on Friday, January 13, 2023, as an R-Rated film, running for 1 hour and 32 minutes. 
Fans can subscribe to Hulu at $7.99 and $14.99 for the ad-supported and ad-free streaming plans.
Scroll Down for Comments and Reactions