News
How to Use Two-handed Weapons in Elden Ring
How to Use Two-handed Weapons in Elden Ring
Elden Ring features a very diverse collection of weapons from swords, spears, shields, and a lot more! They can be used and welded in different ways and each of them offer unique movesets and playstyles. Knowing how to utilize these is a great skill to master when exploring this wide open world. One of them being two-handed weapons. So how do you actually use them?
How to two-hand weapons in Elden Ring
You may have tried doing the previous From Software Games control where you only need to hold the triangle/Y button in order to two-hand weapons. But in Elden Ring, you would have to press an extra button. Those who play on the Playstation must hold Triangle and press R1 or L1 to two-hand your right or left weapon. For Xbox players, they must hold Y and either RB or LB.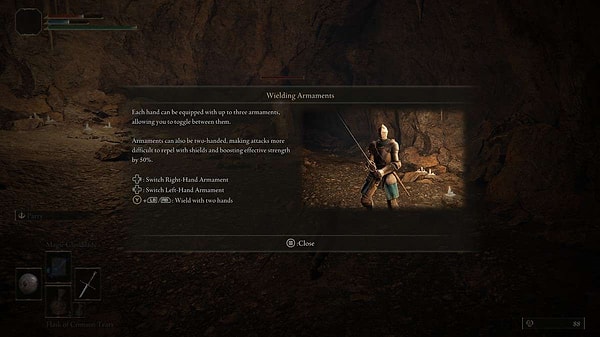 Why two-hand weapons?
There are a lot of reasons why you should utilize two-handed weapons. But the most obvious one is for more damage output. Although the damage boost is not that big, every hit will count in those important boss fights. 
Dual-wielding or two-handed weapons may take some time to get used to. Since you focus more on attacking and you don't have a shield, you need to be more agile and adept at rolling or dodging enemy hits. This can be quite challenging especially if the enemy has a different windup speed than usual.
Another pro is it gives you access to new movesets. These moves allow you to utilize a weapon to its full potential damage and unleash devastating powerful attacks on your foes. Like any other weapon or ability, two-handed weapons come with their own boons and banes, but learning how to use it will definitely make you a better player in Elden Ring.
Scroll Down for Comments and Reactions