How HBO Max's 'Euphoria' Differs From its Israeli Version
Did you know that your beloved HBO series, Euphoria, is adapted from an Israel miniseries of the same title?
Well, you're not alone; even some of the dying fans of the series had no idea.
The original film ran for a single season nearly a decade before the incredible remake, which was launched on HBO and HBO Max on June 16th, 2019, and January 9th, 2022, for seasons one and two, respectively.
Who Produced 'Euphoria'
America's Euphoria is written and produced by Zendaya, Drake, and Sam Levinson. Other chief producers include Jim Kleverweis, Gary Lennon, Yoram Mokady, Mirit Toovi, Timira Yardeni, Daphna Levin, Ron Leshem, Hadas M. Lichtenstein, Kevin Turen, Ravi Nandan, and Future the Prince.
The series has already been renewed for season three on HBO.
What is 'Euphoria' About?
Euphoria is a strong teen series everyone could crave, following all the dramas you can imagine. The series has everything from wild parties, love, money, murder, sex, and drugs.
Change is investable, especially when it comes to TV show adaptations. The HBO Euphoria differs from its mother series in several ways that we are about to unveil. Come with us!
The Setup
The U.S. HBO remake sets its Euphoria in the 2020s, unlike its original show, which was developed in the 90s. Experts blame Israel's instability for impacting the lives of its youth.
It could also be an effort to illustrate the technology, social, and economic factors of 2020, which have a more substantial effect than those of the 1990s.
The Parents' Involvement
While both the HBO adaptation and Israeli version critique the parents of the high school teens, it's more detailed in the American series, which showcases the characters' connection with their children like Cal and Nate Jacobs.
On the other side, no parent was featured in the Israel version- a move highly critiqued by fans for displaying the Israeli parents as ignorant and neglectful.
The HBO adaptation has also been criticized for being unrealistic, although it had little to do with parenting.
The Main Character
The Israeli series has Roni Dalumi portraying Hofti while Zendaya represents Rue in the US remake. While both shows have their leading character using drugs to manage a catastrophe, Hofti is revealed to have died of an overdose and tells the story beyond the grave.
The adaptation chose to keep Rue alive although her addiction has exposed her to the brink of death severally; it  doesn't disclose whether she is narrating from her unconscious times.
Rue Uses for a Different Reason
Although not so straightforward, Rue's usage relates to her father's death in a few of Euphoria's scenes. The Israeli version's main character, Hofit, starts experimenting with drugs after her date kills someone who tries to flirt with Hofit.
She feels guilty and responsible for the death and tries to manage the feeling with drugs. While Hofit's usage is slightly experimental, the adaptation has Rue as a consistent user.
The Characters are Nearly Different
The inevitable feature in any adaptation is the change of characters. HBO's Euphoria wasn't any different as Rue (Zendaya) replaced Hofit (Ronu Dalumi) in the pivotal role; although the story of drug usage remains in both shows.
Other characters who have been replaced in the adaptation include Amit Erez (Noy Cohen), Avi Mazliah (Masuli), Kosta Kaplan Raanan), Uriel Geta (Tomeriko), Amanda Bright (Mona Lisa), Dolev Mesika (Tzhubon), Angel Woodland, Roy Nik, and Ofer Hayoun.
Kat Contracts HIV
While Kat (Barbie Ferreira) goes through a hard time in the HBO remake, it's nothing much compared to what her mother character from the Israeli version endured.
Her sexual exploits have consequences, although not as long-term as in the adaptation where she contracts HIV.
Ashtray Kills his Bully
In the adaptation, Javon Walton is portrayed as Fezco's younger sibling, Ashtray, a position occupied by Uriel Geta (Tomer) in the Israeli version.
The original series has Ashtray killing Nate to avenge Rue's suffering and loss.
Ranaan's murder
In the Israeli version, Ranaan is killed by Hofit's boyfriend for trying to flirt with her- a story based on the true-life
murder of Ra'naan Levy in 2004.
According to The Jerusalem Post, in 2006, two Israeli crime family members were arrested for the murder of Ra'naan Levy. Levy, aged 18, was engaging a girl outside a club, and her lover thought the two were flirting, chasing him in a Jeep before he was found lifeless.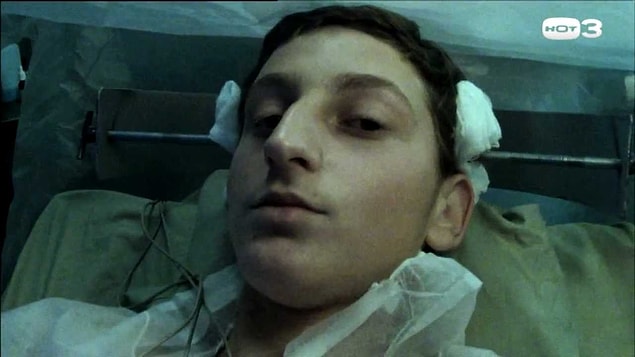 Fezco
Fezco (Angus Cloud) replaces Dekel (Dolev Mesika) from the Israeli version.
The difference between the two is that Fezco undertakes a consistent dealer role while his counterpart likes to experiment with hallucinogenics. Their relationship with the leading character also showcases a significant difference between both shows.
The Israeli version and its adaptation use Dekel and Fezco to offer drugs to the main characters Hofit and Rue. However, Rue's relationship with her supplier is purely non-romantic, while Dekel discloses his evil intentions after his efforts to seduce Rue fail.