Horror Thriller 'John Carpenter's Vampires' is Coming to Netflix in July – Release Date, Trailer and More
News
>
Horror Thriller 'John Carpenter's Vampires' is Coming to Netflix in July – Release Date, Trailer and More
Jack Crow was raised by the Catholic Church to become a master vampire slayer after vampires killed his parents.
'John Carpenter's Vampires' (also known as 'Vampires') is a 1998 American independent neo-Western horror film directed and scored by John Carpenter and starring James Woods. It was adapted from the novel Vampire$ by John Steakley.
The film was followed by two direct-to-video sequels, 'Vampires: Los Muertos' (2002) and 'Vampires: The Turning' (2005).
'John Carpenter's Vampires' Trailer
The trailer for the action thriller film 'John Carpenter's Vampires' is already available on Youtube. The trailer can also be watched below:
'John Carpenter's Vampires' Plot
Jack Crow (James Woods) has only had one goal in life since vampires killed his parents: driving stakes through the hearts of bloodsuckers. Crow prowls the New Mexico desert in search of undead strongholds to destroy with the aid of the Catholic Church and his team of combat-proven vampire killers. But he encounters his match when he encounters Jan Valek (Thomas Ian Griffith), a powerful vampire kingpin, at a rural hotel..
In order to prevent vampires from obtaining an old Catholic relic that would enable them to walk in the sunlight, a vengeful vampire slayer must get it after recovering from an ambush that resulted in the death of his whole team.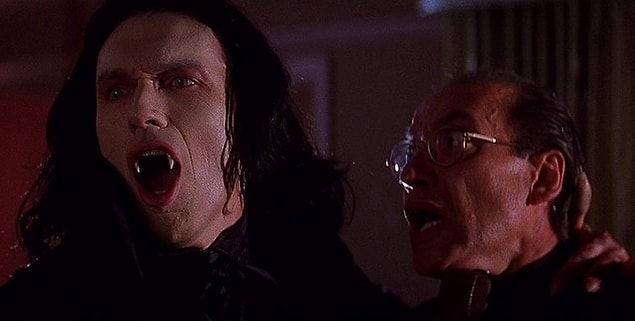 The Vatican asks a group of vampire hunters to track down a master vampire and his gang of vampires who are mutilating and devouring humanity. The Vatican has an agenda of their own regarding preventing a centuries-old cross from falling into the hands of the master vampire, while the leader of the vampire hunter does the killing and follows orders from the Vatican because his parents were killed by vampires and he was raised by the Church.
'John Carpenter's Vampires' Cast
'John Carpenter's Vampires' cast ensemble is as follows:
James Woods as John 'Jack' Crow

Daniel Baldwin as Tony Montoya

Sheryl Lee as Katrina

Tim Guinee as Father Adam Guiteau

Thomas Ian Griffith as Jan Valek

Maximilian Schell as Cardinal Alba

Mark Boone Junior as Catlin

Gregory Sierra as Father Giovanni

Cary-Hiroyuki Tagawa as David Deyo

Thomas Rosales, Jr. as Ortega

Henry Kingi as Anthony

David Rowden as Bambi

Clarke Coleman as Davis

Chad Stahelski as Male Master

Marjean Holden as Female Master
'John Carpenter's Vampires' Release Date
'John Carpenter's Vampires' is set to release on Netflix tomorrow, July 1st, 2022.
Are you looking forward to the release of 'John Carpenter's Vampires' on Netflix? Share your thoughts about the movie in the comment section below.