HBO's Newest Documentary Series 'Edge of the Earth': Everything We Know So Far
HBO has continued to top up its documentary series library. The streamer is here with another piece, Edge of the Earth, which lands after the recent launch of The Anarchist. The series perfectly mixes nature, travel, sport, and action adventure.
What's the Docu-series About?
Edge of the Earth follows squads of elite athletes determined to do the extraordinary. With magnificent shots around the globe and outstanding never seen before realism of nature, each episode has the athletes navigating new destinations. 
Physical attributes and mental toughness are crucial factors. Sailing across oceans, rivers, and mountains, Edge of the Earth is a masterpiece! The series also boasts high-class immersive video and aerial photography across some of the planet's least accessible locations.
Expert snowboarder Elena Hight along with other professionals, Griffin Post (skier) and Jeremy Jones (snowboarder), ride Mount Bertha's (of Alaska Glacier's Bay National Park), a move no one has ever risked before. 
As the series begins, Hight questions if the determination is worth the risk. And from the series entails, everything is worth the risk.
Who is the Crew Behind 'Edge of the Earth'?
Edge of the Earth has four episodes for the first season. Several characters contributed to the success of the series, including Griffin Post, a skier, Elena Hight and Jeremy Jones (snowboarders), Erik Boomer, Nouria Newman, Ben Stookesberry (kayakers), Adrian Ballinger, Emily Harrington (climbers), Grant Baker, and Ian Walsh (surfers).
Drew Holt produces Edge of the Earth with Todd and Steve Jones as the directors. Bently Weiner, Lisa Heller, and Nancy Abraham chiefly made the documentary series, while Abtin Motia is the coordinating producer. The series results from HBO and Teton Gravity Research's efforts.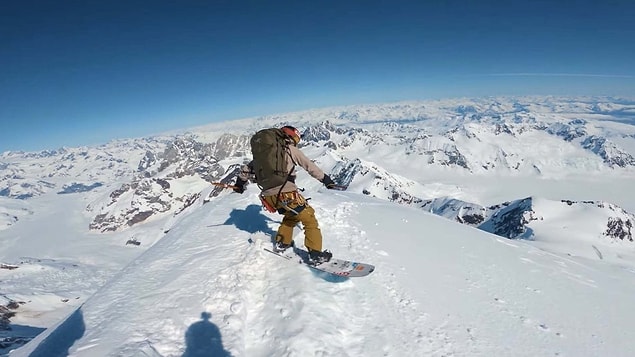 Where to Watch 'Edge of the Earth'
On July 12th, 2022, Edge of the Earth was ready for streaming via HBO and HBO Max. The streaming platforms release new weekly episodes to keep you staring at the screens. 
The streamers have also unveiled an official trailer on their primary YouTube Channels. The series has garnered a whopping 7.5 out of 10 stars on IMDb with massive positive reviews and critics. These scores will surely motivate the creators toward another season.
Edge of the Earth joins Last Movie Stars in the list of HBO Max's most recent documentary shows.