News
HBO Releases 'Westworld' Season 4 Teaser Trailer Revealing Premiere Date
HBO Releases 'Westworld' Season 4 Teaser Trailer Revealing Premiere Date
The teaser for the fourth season of HBO's Original drama thriller series Westworld surfaced on YouTube on Monday evening, unveiling a June 26 release date.
Teaser Trailer
The teaser kicks off with Lou Reed's 'Perfect Day', perhaps to sarcastically hint at a not-so-perfect unfolding of its doomed cast this season. 
Some regular characters featured in the teaser include Thandiwe Newton, Aaron Paul, Ed Harris, Evan Rachel Wood, Tessa Thompson, Angela Sarafyan and Luke Hemsworth. 
No dialogue features in the teaser, but a sequence of skewing and somehow gruesome images, showcasing a grim New York with people waltzing in the streets and huge smoke emissions that captivate lots of flies.
The third season of Westworld wrapped up in May 2020, making many fans conclude that the series had been canceled. You can imagine the frenzy among the audience when the teaser debuted earlier today.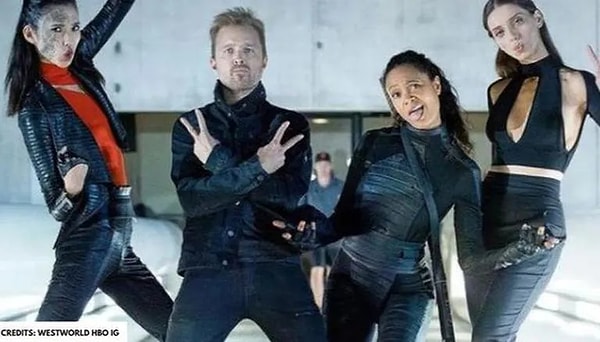 'Westworld' Season 4 Cast Members
Westworld cast members count themselves lucky because when they get killed off, they can re-emerge in a new host body. Thanks to the sizzling teaser, we know of some stars that'll sure reprise their roles this season, including Newton as Maeve Millay, Jeffrey Wright as Arnold Weber/Bernard Lowe, Paul as Caleb Nichols, Thompson as Charlotte Hale/Dolores Abernathy, Hemsworth as Ashley Stubbs, Rodrigo Santoro as Hector Escaton and Simon Quarterman as Lee Sizemore. 
Harris as The Man in Black is back! He was killed by Halores and replaced by a host, which she manipulates. Aurora Perrineau joins the gang and is said to appear in at least five episodes.
'Westworld' Season 4 Premiere Date
The saga continues for its eight-episode fourth season on June 26 on HBO Max.
Scroll Down for Comments and Reactions