FX Drops 'Archer' Season 13 Trailer Revealing the Agency's Potential Danger
The handsome charismatic international spy Sterling Archer and his team are returning to our screens in another round of Archer season 13. 
FX released a brand-new trailer of the animated show's 13th season, hinting at new drama, characters, suspense and of course, tons of shazam as the crew tries to come to terms with the demise of Malory. 
Get to see what unfolds next when Archer season 13 premieres on Wednesday, August 24.
What Happens In 'Archer' Season 13
Malory's departure through death from the show pays tribute to the late Jessica Walter, who voiced the character. Sadly, Walter passed away last year at the age of 80. 
Malory was Archer's mother and the former head of the agency. This season will focus on what happens after Malory's death. First, with no appointed leader yet everyone will need to prove their worth to remain on the team.
The International Intelligence Agency (IIA) has taken over the agency, and Archer and his gang struggle to reign supreme, including going on odd quests for Fabian.
Our beloved characters are in for a tough spell, with new owners preceding over the agency and the question of who should take over Malory looming.
Who Will Feature in 'Archer' Season 13?
The show's new season will bring several guest stars, including Kenan Thompson of Saturday Night Live, Stephen Tobolowsky of Groundhog Day, Kavyan Novak of What We Do in the Shadows and Alison Pill of Star Trek: Picard. 
The routine cast members will reprise their roles, including H. Jon Benjamin voicing the great spy Sterling Archer, Judy Greer as the office assistant Cheryl/ Carol Tunt, Chris Parnell as the consistent company agent, Cyril Figgis and Aisha Tyler as Lane Kane, the spy with marital problems.
Archer is produced by FX Productions with Adam Reed, Kavyan Novak and Stephen Tobolowsky serving as executive producers.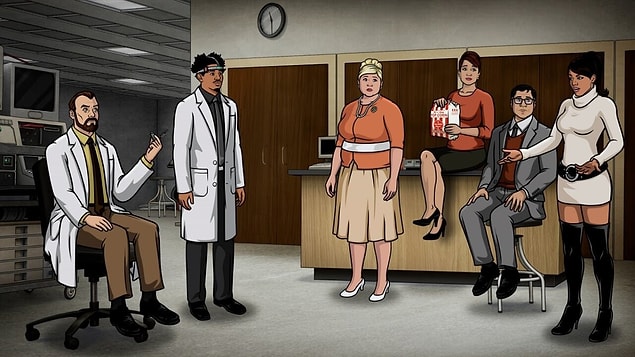 Premiere Date
The 13th season of the adult animated comedy show will launch in August with the first episode, 'The Big Con'. The second episode, 'Operation: Fang', will drop a week thereafter on August 31. 
As in the previous seasons, season 13 features eight episodes in total, each running for approximately 30 minutes on FXX.
As each new episode starts airing weekly, it will be available the following day on Hulu.