News
Funny Emoji Combinations on TikTok
Funny Emoji Combinations on TikTok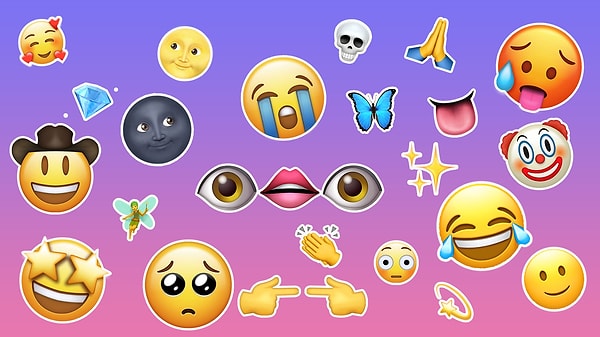 🌚🥂🌝 "Cheers, bestie!"
Just enjoy life with your bestie.
🙄🤚 "So, anyways ..."
We sometimes get sidetracked during stories so this emoji combination is a good transition to go back to your original topic.
👉 👈 *feeling shy* or *simping*
People use this as a representation of feeling shy since in real life, many actually do point their index fingers towards the other and accompany it with a cute facial expression.
🚪🏃💨 "Time to leave!"
Quite self explanatory, but when the time comes that you need to get yourself out of a sticky situation, you can use this emoji combo.
🍿🤏😯 "When drama is happening" or "When something is going down"
Like in watching any film, we know that popcorn is always a good snack to munch on when something interesting is going down.
🤸🚊 "Secondhand Embarrassment"
While the emojis do not really explain how it represents secondhand embarrassment, it is still widely used on TikTok. Secondhand embarrassment is the feeling of embarrassment from observing the embarrassing actions of another person.
🛌🏃 "Going to sleep."
This is pretty much self explanatory. You know, hitting the sack.
🕳👨🦯 "I didn't see anything."
Sometimes we tend to turn a blind eye on things and this basically shows how it is done.
👩🤏👩🦲 *wig snatched*
If someone's wig is snatched, then that means that they are shocked or stunned.
☕️👌 *sips tea*
When someone sips tea, it means that they are enjoying the latest gossip.
😐😑😐 *slow blink*
This is often related to confusion or sometimes just being speechless.
😏🤝🙄 "OK, I guess."
This is defeat and acceptance combined.
😎🤏😳🕶🤏 "What did I just witness?" or "Excuse me?"
Some things are just inexplicably weird. If you are confused as to what you just saw, use this emoji combo.
🤡🪞 "looking in the mirror like..."
Remember when you said something you would not do but still ended up doing it? You might be looking at yourself in the mirror like a clown.
☕️🐸 "Nice."
Nice? Nice. That's it. Poggers.
👉🙄👈 "I'm not listening!"
This emoji is basically a person trying to cover their ears.
😃👉🚪 "There is the door, you can leave"
All signs point to the exit, honey.
😯☝️😐✊ "Nevermind."
This emoji combo might be one of the longest ones but this very accurately describes a person who was about to say something but ultimately decides to not say it anymore.
😌💅 "Feeling pretty or sassy. I'm a material girl."
We need to give in to our personal desires sometimes, right? Go and buy that iPhone, bestie!
😃🖕"Do I care?"
Do I look like I care? No? Then this is for you.
👁👄👁 *blank stare*
Do you not want to show any emotion? Then this blank stare emoji is for you.
🕳🪂 "Alright, bye!"
Simply parachute down the rabbit hole.
So now that you have a list of a few common emoji combinations on TikTok, you can now easily copy and paste the combos above whenever you create a video. Make sure to bookmark this page for future reference!
Do you have a personal emoji combination?
Scroll Down for Comments and Reactions