News
Find Out Which Peter Parker Had a Fake Butt in Spider-Man: No Way Home
Find Out Which Peter Parker Had a Fake Butt in Spider-Man: No Way Home
If you're a fan of the Marvel Cinematic Universe as I am, then you know how a bid of a deal Spider-Man No Way Home is. And I definitely flocked to the theaters over Christmas last year to confirm the rumors that the Spider-Man trio: consisting of Tobey Maguire, Andrew Garfield and Tom Holland, would be fighting side by side.
Spoilers alert! I still remember the excited screaming and clapping by fans (myself included) as Garfield (Peter Parker 3) made a dramatic entrance into Holland's (Peter Parker 1) universe right before Maguire (Peter Parker 2) did. Watching all three Spideys in action was an out-of-the-world experience!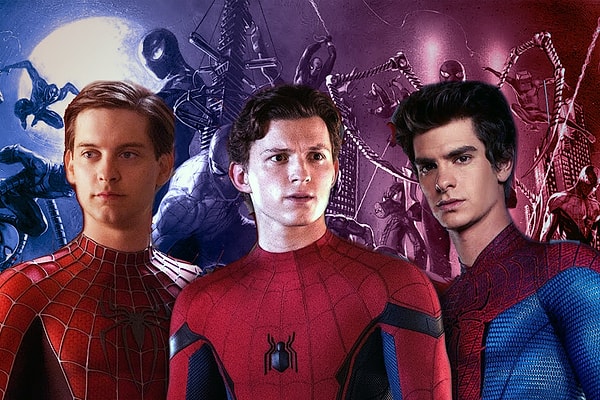 Fake Butt Spidey Outed
On his promotion tour of the film on Late Night With Seth Meyers, Holland expressed his exhilaration for working alongside two Spidey legends he greatly admired. 'To share the screen with them as Spider-Man was a wonderful and life-changing experience. It felt like I had two older brothers who had been through the experience before me,' Holland stated. The brotherly love was mutual for the other Parkers citing that they found deep companionship in each other.
However, Holland outed one of his elder brothers for having a fake ass underneath his Spider-Man suit. Guess who it is? Tobey Maguire! 
Fake ass or not, though, Maguire's Spider-Man journey with Sam Raimi kicked off the Peter Parker story that has inspired an endless number of fans out there, myself included.
What's More!
Since its release on December 17 2021, Spider-Man: No Way Home has grossed $1.832 billion on a budget of $200 million, making it the sixth highest-grossing film of the year. 
With an audience likeability of 97%, the film has received an 87% on IMDb and a perfect Rotten Tomatoes score of 93%. 
If you're not ready to hit the theaters to enjoy the movie, you'll have to wait a little while longer. Sony announced that Spider-Man: No Way Home will be available for streaming from March 22 and on purchase on Blu-ray, 4K Ultra HD and on DVD on April 12.
Scroll Down for Comments and Reactions