News
Donald Glover May Star in 'Community' Movie Adaption
Donald Glover May Star in 'Community' Movie Adaption
Donald Glover, often known by his rap alias Childish Gambino, will rejoin members of the 'Community' cast in a film adaption of the popular TV series.
The TV show was one of Glover's first ever acting gigs and had him performing on the show in front of a big audience on NBC.
It has been reported by several outlets this week that Peacock and Sony Pictures TV have approved the adaption of the show, based on a study group's interactions at a Community College, in September.
The shows original creator, Dan Harmon, is currently writing the upcoming movie based on the show.
In a recent interview with Variety, Harmon said he couldn't imagine producing the new film without Glover's presence.
"For lack of a better word, there was a ball fumbled… [Glover] is down to clown," he said. "Man, I would not want to think about making [the movie] without Donald."
While it appears a number of the show's former stars have already been re-signed to star in the movie version, fans were questioning the absence of Glover in a greenlight announcement of the movie last week.
Along with Donald Glover, also missing from the announcement was Yvette Nicole Brown.
Harmon has since subdued outcry from fans somewhat with his recent comments to Variety.
'It would be difficult to really commit to doing this thing without Donald,' he said to the outlet.
'So I believe he is coming back,' he added.
'I think if there's names missing from a list, its because the names that are on the list, their deals are agreed upon enough to say that it's OK to say they are on the list, and anybody that's not on the list, it's just not quite the case yet.'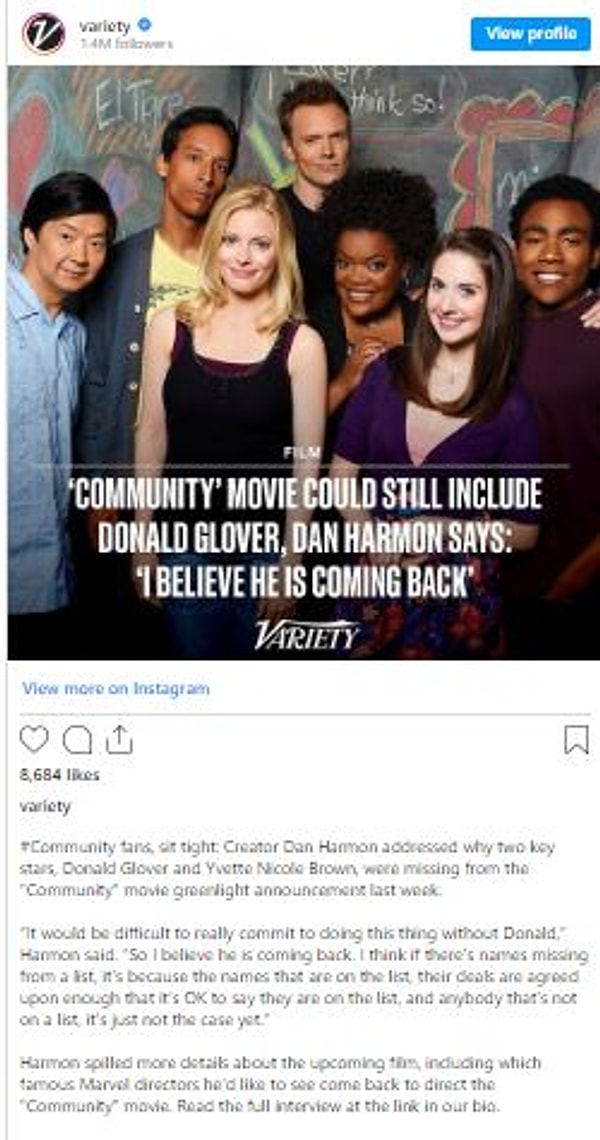 In 2020 Glover reunited with the old cast for a virtual table read and a Q&A in aid of Covid-19 relief efforts.
During that roundtable, Glover, known as the ex-high school footballer jock, Troy, spoke fondly of the series.
'We had so much fun and now I'm like, 'I want to watch this show again, like it was brand new,'" he said.
In the time since Community wrapped up, Glover has been busy producing new music as Childish Gambino and producing the hit TV show, 'Atlanta.'
Glover has just wrapped the final season of his show and there are rumours that he may yet release some new music following his last album in 2020.
Donald Glover Presents - 3.15.20
Scroll Down for Comments and Reactions