News
Does Gamora Return in 'Guardians of the Galaxy Vol. 3'?
Does Gamora Return in 'Guardians of the Galaxy Vol. 3'?
The Guardians of the Galaxy are back for another death-defying mission!
Marvel Studios dropped the official trailer for Guardians of the Galaxy Vol. 3 a week ago, which hints at Gamora's returns and explores Rocket's history. 
The trailer also sneaks a peek at the all-gold being Adam Warlock, who was first teased in the second installment's post-credits scene. The character will be portrayed by MCU newbie Will Poulter (We're The Millers). 
Though the comic describes Warlock as a superbeing out to destroy the Guardians of the Galaxy, the film's main villain is High Evolutionary, starring Chukwudi Iwuji (John Wick Chapter 2), a super-intelligent being who created Rocket.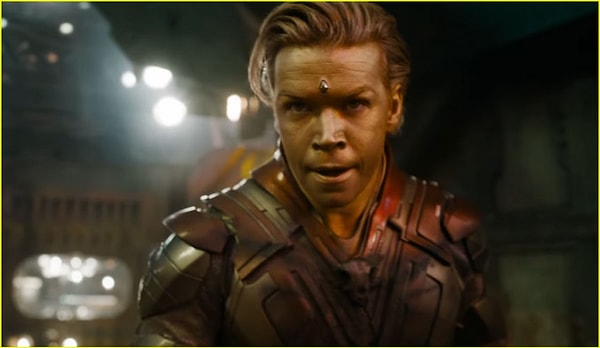 Trailer
The emotional trailer begins with the Guardians arriving on a foreign planet possessed by animal-themed people. Though cute and cuddly, they take no nonsense when Drax knocks down a child, who innocently rolled a basketball at him. 
We finally get to know Rocket's roots, answering questions about how he came to be. He may have originated from the animal-themed planet, as seen when he reconnects with a weasel, presumably a long-lost family. Guardians of the Galaxy Vol. 3 could show another softer and more vulnerable side to Rocket, whose face value in the previous films was stubborn, delinquent and juvenile. 
The trailer also reveals a fully grown Groot again, like he was in Guardians of the Galaxy (2014). We also see glimpses of Zoe Saldaña's Gamora, meaning she could feature in the upcoming film. 
However, we don't know how she'll come back given that her adoptive father, Thanos killed her on the planet of Knowhere to get the soul stone during Avengers: Infinity War (2018). Perhaps there could be time traveling or exploring the multiverse to get another version of Gamora, as was done in Doctor Strange in the Multiverse of Madness (2022).
Cast and Creators
Guardians of the Galaxy Vol. 3 sees the return of several familiar faces, including Chris Pratt as Peter Quill/Star-Lord, Karen Gillan as Nebula, Dave Bautista as Drax, Pom Klementieff as Mantis, Elizabeth Debicki as Ayesha, the gold queen and Sean Gunn as Kraglin. 
We also have Bradley Cooper voicing Rocket and Vin Diesel as Groot. Maria Bakalova makes a new addition as Cosmo the Space Dog. 
James Gunn returns as the writer and director of the third installment before departing Marvel to go to DC Studios as co-CEO. 
Guardians of the Galaxy Vol. 3 marks the third and last film of the franchise, coming after Guardians of the Galaxy Vol. 2 (2017).
Scroll Down for Comments and Reactions