News
Disney Plus Unleashes More Details About 'Enchanted' Sequel 'Disenchanted'
Disney Plus Unleashes More Details About 'Enchanted' Sequel 'Disenchanted'
After what feels like forever waiting, Disney+ will be unveiling the sequel to the fantasy musical film Enchanted on Friday, November 18 2022. 
For two months now, the streamer has been constantly dropping clips and teasers about the upcoming film Disenchanted, filling fans with more anticipation. 
The latest preview, titled Even More Enchanted, came in on Sunday, November 13, featuring the redhead protagonist Amy Adams as Giselle singing to make a point to her stepdaughter Morgan Phillip. 
Here's the video below, along with other clips Disney+ has released so far:
What's the Storyline for 'Disenchanted'?
Fifteen years since Giselle and Robert Phillip said I do, Giselle isn't satisfied with her life in Manhattan. So, they relocate to the suburban community of Monroeville to satisfy her fairy tale craving. But Giselle quickly finds out that moving isn't the quick-fix solution she was hoping for. 
Suburbia has new rules and a new queen bee, Malvina Monroe, who makes Giselle feel even more disillusioned. Frustrated that her happily ever after doesn't come so easy, Giselle turns to the magic of Andalasia for assistance but accidentally transforms the whole town into a fairy tale, placing her family's future happiness in jeopardy. 
Giselle must now work to reverse the spell as she discovers what happily ever after means to her and her family. 
Adams promises that the movie will bring the audience a 'wonderful and adventurous' experience that encapsulates what made Enchanted lovable.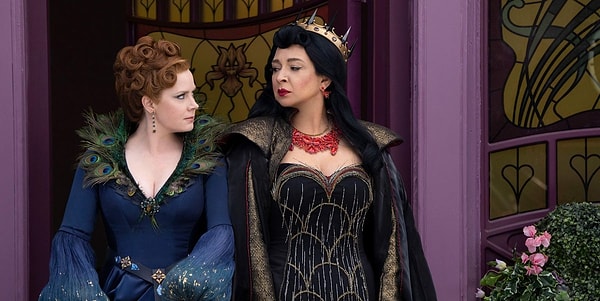 'Disenchanted' is a Sequel to 'Enchanted'
Disenchanted is a follow-up to Enchanted, which premiered in 2007. A live-action combination of Walt Disney's Cinderella, Snow White and Sleeping Beauty, Enchanted follows Giselle, a girl in pursuit of happily ever after. While initially convinced that Prince Edward is her true love, she sets out to marry Edward. 
However, the wicked Queen Narissa of Andalasia destroys her plans and sends Giselle to the live-action reality in New York, where she meets Robert Phillip, a divorced lawyer and single dad, who prepares to propose to his girlfriend, Nancy Tremaine. 
Long story short, if you've watched any of the classic animated fairy tale films mentioned above, you know how the story ends. Giselle falls in love with Robert instead, while Prince Edward finds love with Nancy. The evil queen is defeated. 
Enchanted was critically acclaimed, obtaining a 93% Rotten Tomatoes rating and several awards and nominations, including three Saturn Awards for Best Fantasy Film, Best Actress for Amy Adams and Best Music for Alan Menken, the film's music composer.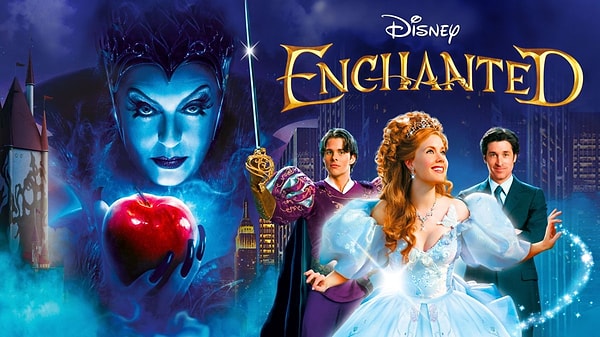 Who Returns to 'Disenchanted'?
Several characters from the first film will return to the sequel. We have Amy Adams as Giselle, Patrick Dempsey as Robert, James Marsden as Edward, now king of Andalasia and Idina Menzel as Nancy Tremaine, Edward's wife and queen of Andalasia. 
Gabriella Baldacchino plays Robert's teenage daughter, replacing Rachel Covey, who played the 6-year-old daughter in the predecessor. Griffin Newman also replaces Jeff Bennett and Kevin Lima as the voice of Pip, Giselle's chipmunk friend. 
Joining the sequel cast is Saturday Night Live's Maya Rudolph as Malvina Monroe, Kolton Stewart as Tyson Monroe, Malvina's son, Glee's Jayma Mays as Ruby, Yvette Nicole Brown (Community) as Rosaleen, Oscar Nunez (The Office) as Edgar, Ann Harada and James Monroe Iglehart as Robert's colleagues and twins Lara and Mila Jackson as Sophia, Giselle and Robert's newborn daughter.  
Like its predecessor, Disenchanted will feature lots of musical numbers, with Idina Menzel adding her melodious voice, which she didn't do in Enchanted. Fans of the teen musical drama show Glee are well acquainted with Menzel's musical persona, as she played the role of Shelby Corcoran, Rachel's estranged mother, a Glee instructor with former dreams of becoming a Broadway star.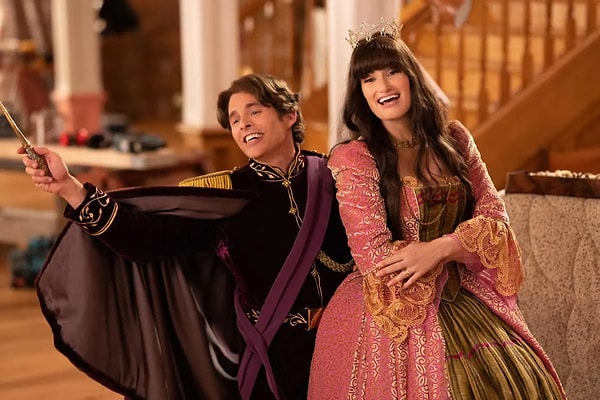 The Production Team
Disenchanted is produced by Amy Adams, Barry Josephson and Barry Sonnenfeld, with Adam Shankman, Jo Burn and Sunil Perkesh as executive producers.
Adam Shankman is also the director, while Brigitte Hales serves as the screenplay writer. 
Eight-time Oscar-champion composer Alan Menken reprises his role in the film alongside three-time Oscar-winning lyricist Stephen Schwartz.
Alan Menken and Stephen Schwartz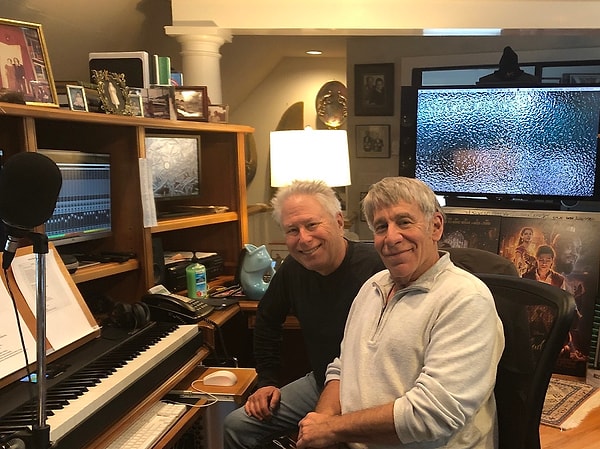 When Will 'Disenchanted' Debut?
Only a few days from the movie's premiere, Disenchanted heads to Disney+ on Friday, November 18 2022. Meanwhile, you can watch the first film, Enchanted, also available on the platform.
Scroll Down for Comments and Reactions