News
Diddy celebrates 53rd Birthday in Style at LA Mansion
Diddy celebrates 53rd Birthday in Style at LA Mansion
Diddy celebrated his 53rd birthday in fine style on Friday evening in Los Angeles.
The hip hop mogul celebrated at his L.A mansion alongside some well-known celebrities as well as plenty of alcohol and dancing.
Among the stars in attendance was Travis Scott, who TMZ reported was dressed up in a sleek black suit when he was spotted enjoying a conversation with the birthday boy.
Jay-Z was also in attendance at the party, and he was seen making a toast to Diddy along with Mary J. Blige.
Many more from the hip hop world were also present. Other invitees spotted included Chris Brown, MGK, Jermaine Dupri, French Montana, Kehlani and Tinashe.
Photographs posted to social media show some extravagant gifts that were presented to Diddy while the famous producer and rapper was also honoured with some big birthday cakes.
The hip hop star began his day by posting a video to social media where he sang to himself, '"Happy birthday to me/ Happy birthday to me/ Happy birthday to meeee/ Happy birthday…to…me!"
The post was captioned, "THANK YOU GOD FOR LETTING ME WAKE UP LIKE THIS! HAPPY BIRTHDAY TO ME! LOVE! LOVE LOVE."
The father of six partied the night away with dancing at his LA home in celebration of his milestone.
Images and video footage appeared on social media showed the original 'Bad Boy' posing for photos with some of his most famous guests while others displayed the fine surroundings of the mansion and is garden where partygoers danced the night away.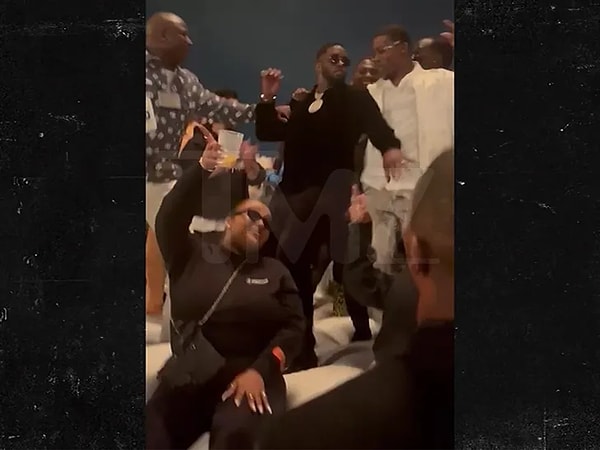 In other news, Diddy is reported to have invested a serious sum to help billionaire Elon Musk in his recent purchase of the popular social media platform, Twitter.
TMZ reported that the East coast star may have invested up to $10 million to aid Musk in hios newest venture, which has not been all plain sailing so far.
On Friday, huge numbers of Twitter staff members reported that they had lost their jobs in company cuts under Musk's new ownership of the site.
diddy has also made recent investments in a number of cannabis companies in New York, Massachusetts, and Illinois.
Recently, Diddy has been reported to have replaced Kanye West on hip hop's list of billionaires, after a number of Ye's business partnerships were ended following his recent controversial comments.
As well as his dealings in music, Diddy owns the media platform, Revolt TV and has investments in the alcoholic drinks company, Ciroc.
Scroll Down for Comments and Reactions