Decoding Dr. Phil's 3-Day Special Uncovering the Notorious Jeffrey Dahmer
Jeffrey Dahmer has been a hot topic of discussion for more than three decades now. Quite recently, the Dahmer talk has been on everyone's lips, sparked by Ryan Murphy's controversial documentary series about the serial killer, which landed on Netflix in September. 
The question on people's minds from the moment Jeffrey Dahmer was apprehended in 1991 is how the hell did he manage to keep up his killing spree for more than ten years?
Well Dr. Phillip C. McGraw unveiled more spine-chilling revelations about the cold-blooded savage on his CBS talk show Dr. Phil, covering interviews with Lionel Dahmer, Jeffrey's father, some family members of Jeffrey's victims, as well as two veteran soldiers who served alongside Jeffrey.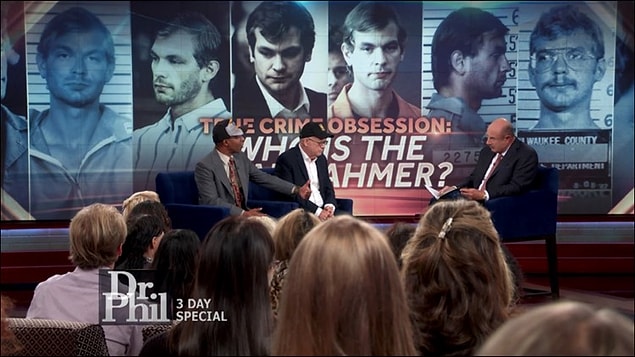 'Dr. Phil' 3-Day Special Talk Shows
Dr. Phil began his three-day special, diving into the sizzling Jeffrey Dahmer topic from Tuesday, November 15 to Thursday, November 17 2022. 
Below are the three special episodes:
Season 21 Episode 47: 'In the Presence of Evil: Face to Face with Jeffrey Dahmer'- Aired on Tuesday, November 15 2022
The episode covers abhorred family members of Jeffrey's victims, who slammed Netflix's series Dahmer-Monster: The Jeffrey Dahmer Story for re-traumatizing them and glorifying the serial killer. Among them is Rita Isbell, the sister of Erroll Lindsey (19), who Jeffrey murdered in 1991. 
Two veteran army medics also share their gripping story of how Jeffrey terrorized, tortured and raped them while serving in Germany. 
Season 21 Episode 48: 'Raising Evil: The Interview with Jeffrey Dahmer's Dad'- Aired on Wednesday, November 16 2022
The installment focuses on an exclusive interview with Lionel Dahmer, who shared the disturbing truth of the two opportunities he got to uncover his son's true evil nature but didn't act on them. 
Victims' families and survivors of Jeffrey also voice their concerns about the glamorized Netflix version of the gruesome story. 
Season 21 Episode 49: 'Jeffrey Dahmer's Journey to Evil: The Home Movies and Childhood Clues'- Aired on Thursday, November 17 2022
Still exploring what sparked Jeffrey Dahmer's killing nature, the episode shares home videos of Jeffrey as an innocent child. Lionel and Shari Dahmer echo the red flags they overlooked and at what point Jeffrey turned evil.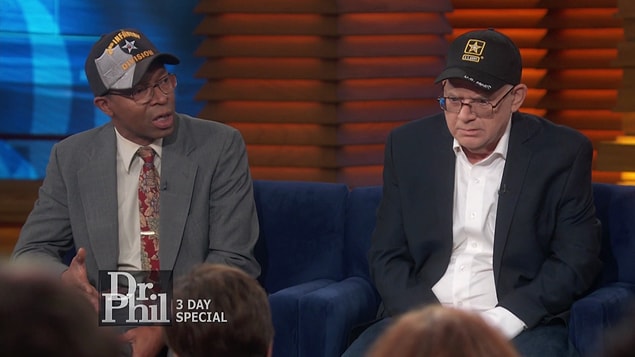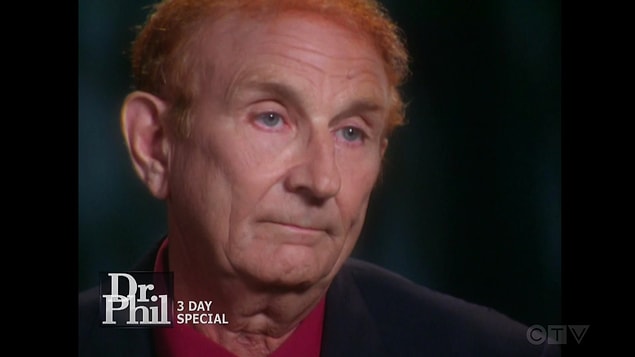 Rita Isbell Claims that Watching 'Monster: The Jeffrey Dahmer Story' Rehashed Her Worst Nightmare
In Dr. Phil's emotional virtual interview with Errol Lindsey's elder sister Rita, she said that watching portions of the biographical Netflix series felt like she was reliving her worst nightmare. She also upheld that the show's producers didn't contact her or her family for their input. 
In the Monster series, Isbell is depicted exploding in anger during Jeffrey's court hearing, with her on-screen persona replicating her words and angry actions to the latter. 
"I'm not telling anyone what to watch. I know true crime media is huge right now. But my family are pissed about this show. It's re-traumatizing over and over again, and for what? How many movies/shows/documentaries do we need?" she wrote on Twitter.
Veteran Army Medics Relive Their Traumatizing Moments with Jeffrey Dahmer
Two former army medics, Billy Capshaw and Preston Davis, also come out on Dr. Phil, sharing their gut-wracking experiences with Jeffrey Dahmer, who terrorized, tortured and raped them. 
Though luckily, they survived, they recall living hell on earth, struggling to overcome the Dahmer effect over the decades, which is constantly reawakened through media, writings, and TV adaptations like Netflix's Monster. 
In the interview, Billy Capshaw stated that Jeffrey became his roommate in 1980 while serving in the 68th Armored Regiment of the U.S. Army at Baumholder, Germany. Noting that Jeffrey was initially charming and friendly, his nature soon changed and he began to drug, molest, terrorize and psychologically torture him, even threatening to harvest his prostate, with him tied up.
Feeling like no one would understand, Billy confessed to contemplating killing Jeffrey and himself. 
Preston Davis said that he met the monster in 1979 in Germany when he was assigned to train him. Jeffrey drugged and raped Preston during field training in Belgium, an unfortunate incident whose memory he managed to suppress for years. 
It wasn't until he stumbled upon a book titled The Shrine of Jeffrey Dahmer by Brian Masters that old memories came flooding. Preston indicated that he was mentioned in the book. 
The two former officers believe that Jeffrey might have devoured more victims while stationed in Germany. Billy recalled an incident when Jeffrey came back to the base drenched in blood after a weekend away. 'He had so much blood on him that when he took his clothes off, he had to peel them,' he added. 
Both Billy and Preston are distressed by the Monster series, asserting that it glorifies Dahmer and downplays the suffering of his victims.
Lionel Dahmer Confessed He Had the Chance to Stop Jeffrey Dahmer but Overlooked
Jeffrey Dahmer's father recounted the missed chance to unearth his son's killing spree in an interview with Dr. Phil almost 20 years ago. Lionel and his second wife, Shari Dahmer, also reflected on the queer behaviors Jeffrey portrayed as a child, red flags that they missed. 
Lionel had an unusual bond with his young son, bonding over taxidermy, which involved dissecting dead animals. The father recalled that Jeffrey developed dangerous sexual fetishes at the young age of 12, fueled by touching the insides of the animals. And so he grew up connecting sexual pleasure with the taxidermy entrails. 
Another missed opportunity Lionel remembered is the wooden box Jeffrey kept in his room while living with his grandmother, Lionel's mother, Catherine Jemima Hughes, after being dismissed from the army. 
He recounted several times when Catherine complained about Jeffrey bringing pornography content to her home, so he decided to visit Milwaukee. 
When Lionel saw the wooden box in Jeffrey's closet, he went to the basement to find a tool to open it up, but Jeffrey complained about not having the freedom to do what he wanted in his room. Convinced that his son was hiding pornography material in the box, Lionel insisted on opening it but Jeffrey convinced him to wait till the next day under the excuse of not disturbing grandma. 
Lionel confessed that had he opened the box immediately, he would have found the severed head of Anthony Sears, who Jeffrey killed and mutilated in 1989. However, waiting until the following day gave Jeffrey the chance to replace the head with pornography magazines. 'I could have saved more lives that day if I insisted on opening the box,' he said. 
The harrowing wooden box incident is recreated in the Netflix Monster series.
Jeffrey Dahmer's Glorification in 'Monster: The Jeffrey Dahmer Story'
Dr. Phil's 3-day special stresses the affected victims' concerns about the glamorized TV version of the chilling events. Since the Netflix series debut, Jeffrey's supposedly infamous glasses were sold for $150,000, and people impersonated him for Halloween. 
Unlike fictional horror characters like Freddy Krueger and Friday the 13th's Jason, Jeffrey Dahmer was a real-life monster, and it seems like the 2022 entrée made him a pop culture movement. Dr. Phil poses the question, 'Has our culture's obsession with true crime desensitized us?' Something to think about.
Fan dressed up as Jeffrey Dahmer for Halloween