News
'Chickenhare and the Hamster of Darkness' on Netflix – Release Date and What We Know So Far
'Chickenhare and the Hamster of Darkness' on Netflix – Release Date and What We Know So Far
'Chickenhare and the Hamster of Darkness' is a computer-animated adventure comedy film directed by Ben Stassen and Benjamin Mousquet and released in 2022. It is based on Chris Grine's comic novel Chickenhare. The story revolves around a young hero who is half chicken and half hare. He is infatuated with adventuring despite his clumsiness, eager to fit in and be liked despite his flaws.
Release Date
'Chickenhare and the Hamster of Darkness' is set to premiere on Netflix on Friday, June 10, 2022.
Trailer
The official trailer for the film 'Chickenhare and the Hamster of Darkness' is available on YouTube for you to have a glimpse of the film's notable scenes. We also made it available for you here.
Storyline
King Peter, a great explorer, has adopted Chickenhare as his son. He has a difficult time growing up because he is part chicken and part hare, and he disguises himself as a hare to avoid ridicule from his friends. When the day of the Royal Adventurer Society trial arrives, Chickenhare fails badly due to his disguise. But he is determined to find the Scepter of the Hamster of Darkness before his villainous Uncle Lapin. The possessor of the Scepter will wield enormous power. Lapin will be unstoppable if he obtains it. He embarks on an epic and initiatory mission with his trusty servant Abe, a sardonic turtle, and Meg, a martial arts skilled skunk.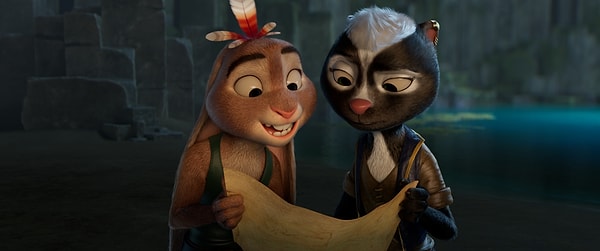 Voice Cast
Jordan Tartakow as Chickenhare, a one-of-a-kind hybrid creature born half-hare, half-chicken His greatest ambition is to follow in the footsteps of his adopted father and become an adventurer, despite his oddity.

Joey Lotsko as Abe, a turtle who is Chickenhare's servant and best friend.

Laila Berzins as Meg, a skunk and expert adventurer who offers to guide Chickenhare and Abe on their quest.

Brad Venable and Chris McCune as Peter, Chickenhare's adoptive hare father is both the King of Featherbeard's realm and a respected explorer.

Danny Fehsenfeld as Lapin, Chickenhare's uncle, a selfish and manipulative hare who aspires to be Featherbeard's ruler.

Joseph Camen as Luther, a gorilla and Lapin's long-time henchman.

Dino Andrade as Barry, a duck who is Lapin's sidekick.

Cedric Williams and Marcus Griffin as Lance and Whitey, Featherbeard's cool kids, a chicken and a hare, respectively, and bully Chickenhare for his appearance.
Are you excited for the arrival of 'Chickenhare and the Hamster of Darkness' on Netflix? Let us know your thoughts in the comment section below.
Scroll Down for Comments and Reactions