News
'Charmed' Reboot Returns on Netflix (Season 4) – Release Date, Cast, and More
'Charmed' Reboot Returns on Netflix (Season 4) – Release Date, Cast, and More
'Charmed,' a remake of the same-named female-led fantasy series that ran from 1998 to 2006, debuted in October 2018 and chronicles the lives of three paranormally powerful sisters. 
Season 4 is expected to bring some significant adjustments. Because of the negative response to seasons 2 and 3, showrunners Liz Kruger and Craig Shapiro have been replaced for the forthcoming season by Jeffrey Lieber, Joey Falco, and Nicki Renna. The new crew has piqued the interest of viewers, who have requested more spells and magic in future episodes.
'Charmed' Season 4 Release Date
'Charmed' Season 4 was announced to be the final season on May 12, 2022. With thirteen episodes planned for the upcoming season, streaming would commence on June 18, 2022.
'Charmed' Season 4 Plot
Mel (Melonie Diaz) and Maggie (Sarah Jeffery) have their lives turned upside down when their adored sister, Macy, dies in season four of Charmed. When their sadness threatens to ruin the Power of Three for good, the unexpected entrance of a third Charmed One (Lucy Barrett) provides them with a second chance to accomplish their destiny.
A strange new foe is lurking in the shadows, sowing fear in the magical realm. But, as this new nemesis lures the Charmed Ones and their allies Harry (Rupert Evans) and Jordan (Jordan Donica) deeper into a twisted game, the question becomes: will this new trio be prepared for what lies ahead? Will their lack of experience working together endanger the entire world?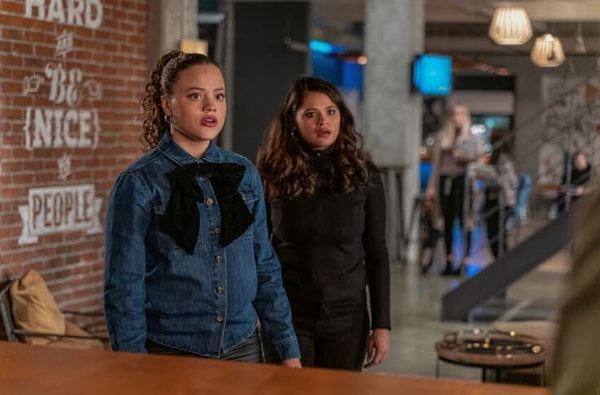 'Charmed' Season 4 Cast - Who will Leave and who will Reprise
Melonie Diaz (Fruitvale Station) and Sarah Jeffery (Wayward Pines) will reprise their roles as Mel and Maggie, the younger Vera siblings with molecular and temporal manipulation, foresight, and emotional inception among their abilities. 
Madeleine Mantock (Into The Badlands), who played Macy, the older sister, would be leaving the program after Season 3.
Harry Greenwood, the sisters' Whitelighter protector and guide who fell in love with Macy, will be played by Rupert Evans. 
Jordan Donica reprises his role as Jordan Chase, who unwittingly unlocked a healing power in the closing episode of Season 3 to spare Maggie the sorrow of losing her sister, healing the cut on her palm in the process.
The Power Of Three has been reignited with the addition of Australian actor Lucy Barrett (Bloom) as the new Charmed One. 
The first three seasons of the Charmed remake are available to stream on Netflix.
Are you feeling excited for the coming of 'Charmed' on Netflix this June? Drop your comments below.
Scroll Down for Comments and Reactions