Cat Power's 'Covers' From 2022 Will Definitely Appease Her Close-Knit Fanbase
News
>
Cat Power's 'Covers' From 2022 Will Definitely Appease Her Close-Knit Fanbase
Four years after her last set of original music, Cat Power (Chan Marshall) returns with a collection of unique covers, each played in her signature style. Though Marshall previously showed the world her prowess as a vital musical interpreter, Covers draws from the widest variety of backgrounds yet, from Frank Ocean to Billie Holiday. Though it will never hold up to her recent career-defining records like Sun and Wanderer, this new covers album is arguably her best non-original package.
Fondly Remembered Renditions Across Decades
The oldest song on Covers, referencing the Billie Holiday version of "I'll Be Seeing You," best represents the ethos behind this new record of covers. An effectively curated covers album has a purpose that can indicate different meanings, and Covers points towards the particularly introspective era of Cat Power's music. In reflecting on herself and taking stock of her decades-long career, Marshall chooses songs for the record to poignantly express her current contemplative mindset. The stories told in Bob Seger's "Against the Wind" and The Replacements' "Here Comes a Regular" take on a new personally and musically for Marshall, a sentiment reflected further in a rousing cover of Cat Power's old song "Hate." Musically, she has no desire to stop her boundless creativity, but the extra weariness from the past years is inescapable from her meditations through these tracks.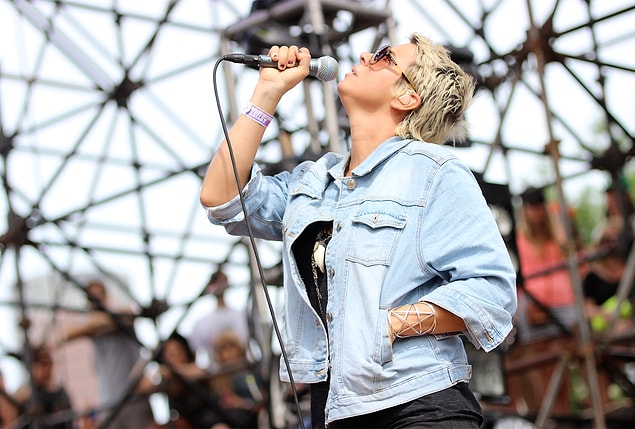 The Verdict on 'Covers'
First and foremost, fans of Cat Power will need to check out these covers. As is the case on the average covers record, Marshall's new collection does not quite cohere into a definitive musical statement. Luckily, Marshall never loses sight of her shifting musical identity here as she explores new avenues of herself across the album. For those unfamiliar with Cat Power, Covers might be only a mildly amusing fresh take on a varied set of songs. For those in the know, this new album is a testament as an artist to staying true to one's core musical principles.
Rating: 7/10
★★★★★★★☆☆☆