News
Bronx Rappers Hold Turkey Drive for Local Community
Bronx Rappers Hold Turkey Drive for Local Community
Bronx rappers Ice Spice and Lil Tjay gave back to their communities ahead of Thanksgiving with a Turkey giveaway on Wednesday.
The pair of hip hop stars brought some holiday cheer to the Bronx as they gave back to their hometown with a Turkey Drive.
With Thanksgiving approaching next week and prices going up in the USA due to inflation, the hip hop pair arrived on the scene to help to those in the area less fortunate.
According to local news outlet, 'News12 The Bronx,' Ice Spice and Lil Tjay donated turkeys to around 150 local Bronx families.
The queue trailed was reported to line around the block as the local stars participated in the giveaway at Fordham University.
Some local residents were said to be waiting in line for up to three hours.
One resident told News12 that she was "beyond grateful" to be part of a community where locals are "supporting everybody," especially during Thanksgiving time when working families are still feeling the ill effects of the Covid-19 pandemic.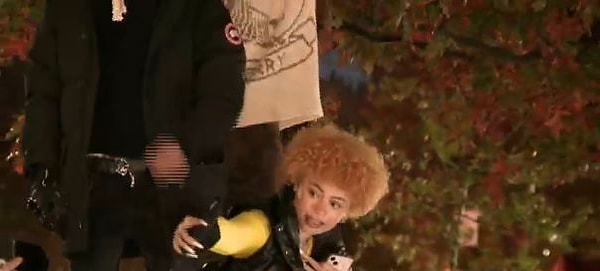 Alongside the Turkey Drive, Ice Spice and Lil Tjay showed love to the community by taking time out to see their fans.
The rappers smiled and waved as they climbed atop vehicles to address the large crowd.
Fans took pictures with the duo and "Munch" rapper, Ice Spice, seemed to be in high demand amongst fans.
This year the female MC went viral with her track 'Munch,' and is set to play a number of upcoming shows.
Recently, she followed that song up with the single 'Bikini Bottom.'
The song's catchy cartoonish beat has seen Ice Spice achieve further success as the track had been popular on social media platform 'TikTok.'
The rhymer recently revealed she has a project on the way.
"I'm about to put out an EP," she told 'The RapCaviar Podcast.'
"It's about to be like six songs," she explained, "'Bikini Bottom' is on there, and then there's some that people haven't heard.
"It's about to be a vibe, visuals coming with it, too," she detailed, "Yeah, a bunch of content around it, it's lit."
Lil Tjay has continued his return to good health after he was shot seven times last June.
The Bronx rapper's comeback single "Beat The Odds" was recently released before his personable follow up, titled "Give You What You Want."
Like his partner in charity, a new musical project may be in the works
Lil Tjay - Beat the Odds (Official Video)
Scroll Down for Comments and Reactions