News
Battlefield 2042 Steam Player Count Drops Below 1000
Battlefield 2042 Steam Player Count Drops Below 1000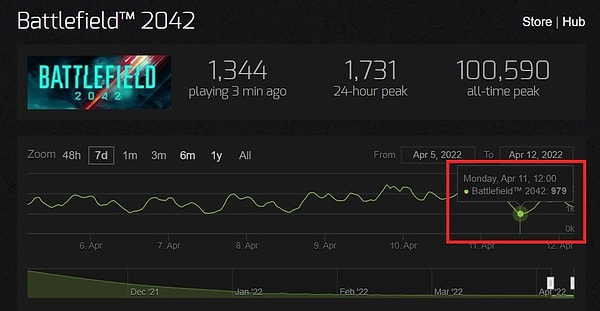 EA hits rock bottom with its flagship multiplayer first-person shooter, Battlefield 2042 already having less than 1000 players on Steam. Battlefield games were always known to have issues during their early release period but seem to recover after a while. Sadly, this isn't the case with Battlefield 2042 which kept going downhill and having no signs of a comeback.
Battlefield 2042 was initially released in November 2021 and it has only been around for 6 months. This downfall  is quite shocking especially coming from a game on the long-running battlefield franchise. Battlefield 2042 is solely multiplayer and they have compromised the single-player campaign of previous games in the series. 
Since it is a multiplayer-focused game, Battlefield 2042 heavily relies on player count to be successful. The data was from SteamCharts and found by users on ResetEra. 
The steady decline of the game was caused by a lot of obvious and unfixed factors. Players were already pissed off with consistent bugs and content rollbacks. EA reportedly admitting that "the game wasn't able to meet the players' expectations," didn't help at all.
EA has blamed the games downward spiral on various factors such as the release of Halo Infinite and the COVID-19 pandemic. Halo Infinite's surprise launch came a mere four days earlier than Battlefield 2042's. Also, their employees were working from home for 2 years because of the virus. 
No matter the reason, Battlefield 2042 is still a suffering game.
Scroll Down for Comments and Reactions