News
AMC's 'Dark Winds' Puts Zahn McClarnon in the Spotlight
AMC's 'Dark Winds' Puts Zahn McClarnon in the Spotlight
AMC's new regeneration of Tony Hillerman's Award-winning books wonderfully represents the world of the novels, with super talented actors and protagonists- receiving all the attention they deserve. 
In the several classical tales concerning crime on TV, conflict occurs from the violation of justice where the police are forced to come in between. But what happens when more profound injustices have already happened? And deeper wounds that stay fully unhealed? These questions are the pivot of the six-part series, Dark Winds.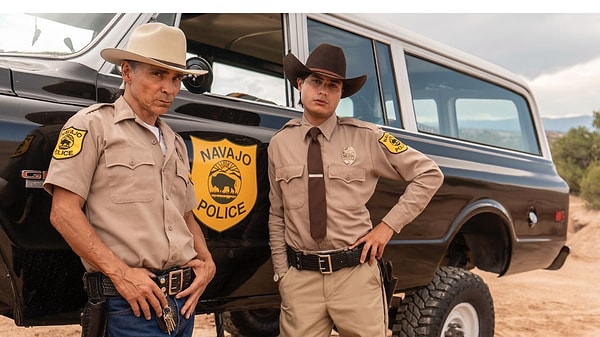 The Plot
The film focuses on Lt Joe Leaphorn played by Zahn McClarnon of The Son and Westworld, of the Tribal Police as he is overwhelmed by a sequence of unrelated crimes. The deeper Leaphorn digs towards the truth, the further he exposes his past wounds. 
Joe Leaphorn's new deputy Jim Chee portrayed by Kiowa Gordon of Roswell and The Red Road joins him on this journey. Chee also has old stories to resolve from his youth days at the reservation. The pair struggles with evil forces independently and jointly to navigate salvation.
Cast and Crew
Dark Winds is produced by George R. R. Martin and Robert Redford, with Chris Eyre as the filmmaker. Alongside Zahn McClarnon and Kiowa Gordon.
Other characters include Deanna Allison representing Emma, Leaphorn's wife, The Office alum Rainn Wilson depicting devoted Dan, Jessica Matten portraying Bernadette Manuelito, and Noah Emmerich acting Whitover.
When Will 'Dark Winds' Debut
AMC Plus has taken it to its primary Twitter account to share the premiere news accompanied by a 1-minute, 58- seconds trailer about the film. Dark Winds arrives this Sunday, June 12th, via AMC+ and AMC with two episodes.
Scroll Down for Comments and Reactions