News
All The 'Don't Worry Darling' Drama Explained
All The 'Don't Worry Darling' Drama Explained
September has been filled with numerous Hollywood-related controversies, however, the ongoing drama surrounding the recently released movie, Don't Worry Darling, definitely takes the cake. Since the movie's dramatic premiere at the Venice Film Festival earlier this month, social media has been awash with suggestions of off-screen drama involving the movie's cast. If you're on Twitter often, there are high chances that you have stumbled on tweets making hilarious references to controversies surrounding the movie. This article will fill you in on the details.
Movie Details
Don't __Worry Darling is set in the 1950s and follows the life of a couple, Alice and Jack, as they navigate the sinister side of their seemingly perfect community. Florence Pugh plays Alice, while Harry Styles plays Jack. The movie also includes star actors like Chris Pine and Gemma Chan. It is owned by Warner Bros. Studios and directed by Olivia Wilde, who recently
made her directorial debut with the 2019 hit film, Booksmart.
Don't Worry Darling | Official Trailer
Drama
At first glance, Don't Worry Darling seems to be a regular Hollywood movie with a decent budget, an ambitious director, and an A-List Cast. However, a web of controversies suddenly sprung the movie into the limelight in the days
leading up to its premiere. Some of the controversies include: 
On-Set Tension Between Wilde and Pugh: Rumours of a feud between Wilde and Pugh were sparked at Don't Worry Darling's early production stage. The rumors started when Wilde posted Don't Worry __Darling's official trailer on Instagram. However, as social media watchers would later detect, Pugh did not like nor comment on the post, an action which is typically unusual for actors who star in films. Social media ran with this trend of events and suggested the existence of a feud between Pugh and Wilde. A Page Six publication further stoked the fire. The news outlet reported that its sources had confirmed that Florence Pugh was unhappy about the affair between Harry Styles and Olivia Wilde, and this fuelled on-set tensions. These allegations have been constantly denied by Warner Bros. Studios. In a recent statement to E! News, the studio's co-CEOs praised the performance of both women and vehemently denied rumors of a feud.

Director-Cast Screaming Match: Sequel to the rumored feud between Pugh and Wilde, a new set of rumors emerged days ago. This time, Vulture reported that Florence Pugh and Olivia Wilde had a screaming fight while on set. However, the movie's crew members have since debunked the allegations. In a statement to PEOPLE, forty Don't Worry Darling crew members maintained that there was no screaming fight on set, and all claims of a feud between the director and the cast were utterly false.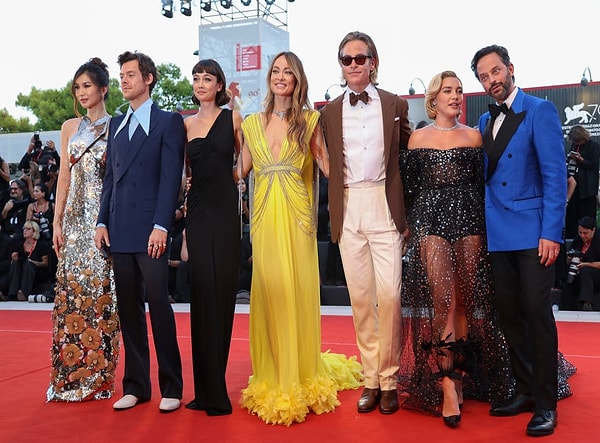 #SpitGate: In another turn of events, a video surfaced online where Harry Styles was spotted making his way to his seat at the movie's Venice premiere. However, what stood out was that Harry pouted his lips as he sat next to Chris Pine, his co-star who plays Frank in Don't Worry Darling. This gesture appeared as though Styles had spat in Pine's lap, and the assumption seemed to ring true since Pine looked at his lap immediately Styles pouted his lips. The singular action led to a string of tweets tagged 'SpitGate', claiming that Harry had allegedly spat on Pine. Expectedly, the movie's cast and crew denied the allegations yet again. During an interview on the Late Show with Stephen Colbert, Olivia Wilde denied that Styles spat on Pine and tagged the allegations as 'weird.' Styles also joked about the rumor at his Madison Square concert days ago.
"Harry Did Not Spit On Chris, In Fact" - Olivia Wilde Clears Up The Mystery Of #Spitgate
The Aftermath
Despite the wave of controversies tied to Don't Worry Darling, it has since premiered at the box office. The movie did significantly well, earning over $19 million in its box office debut. Since its opening weekend, it has raked in over $30 million worldwide, recouping almost all of the movie's $35 million budget within two weeks at the box office. Harry Styles also released a song with Florence Pugh days ago. Styles focuses on the piano while Pugh provides the vocals. The song is titled 'With You All the Time,' and is based on Don't Worry Darling.
Scroll Down for Comments and Reactions