News
All Aboard! 'Mighty Express: Train Trouble' Arrives at Netflix
All Aboard! 'Mighty Express: Train Trouble' Arrives at Netflix
Got your bags and tickets? Hop on the choo-choo train as 'Mighty Express: Train Trouble' arrives at Netflix this Tuesday, Jan. 18!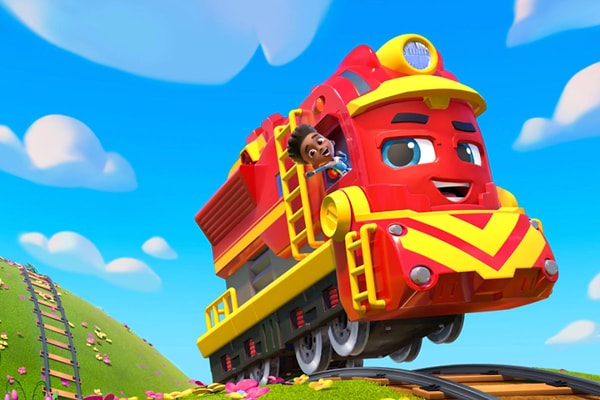 What is 'Mighty Express: Train Trouble'
From the creators of PAW Patrol, Mighty Express welcomes you to your own action-packed train world! In exciting preschool adventures, a group of trains and kids work together to keep things moving around the city, no matter what happens. Let's keep this train moving!
'Mighty Express' is a Canadian CGI-animated children's television series created by Keith Chapman and Spin Master Entertainment. 
Originally a series, 'Might Express' was initially released on September 22, 2020. The series became successful and led to the release of second, third, fourth, and fifth seasons. Although, unlike the first three seasons, the episodes from the fourth and fifth seasons were placed back to back in half-hour units.
'Mighty Express' also had several special episodes including Crossover Episodes, Christmas Specials, and finally, its latest release, 'Train Trouble'.
In 'Mighty Express: Train Trouble,' a subtle couple has deceived the trains and assumed control over Mission Station! Can Flicker flex his abilities on the tracks to protect his companions and make all the difference?
People Behind Mighty Express: Train Trouble
'Mighty Express: Train Trouble' is an animation film produced by Spin Master Entertainment in partnership with Netflix. The special film will be 254minutes long and will be aired on Netflix on Jan. 18.
The main stars of the film are Jay Hatton, Zoe Hatz, Meesha Contreras. Aside from the main cast, the following will also be starring in the film:
Dylan Schombing

Tyler Nathan

Leo Orgil

Michela Luci

Ian Ho

Evan Lefeuvre

Annick Obonsawin

Gracen Daly

Christian Campbell

Shazdeh Kapadia
Enjoyed 'Mighty Express: Train Trouble?' Tell us your thoughts in the comment section below!
Scroll Down for Comments and Reactions