News
A Paranormal Horror Film 'Countdown' Begins To Scare Viewers On Netflix This February 2022
A Paranormal Horror Film 'Countdown' Begins To Scare Viewers On Netflix This February 2022
Beware of downloading apps on your mobile phones. You might end up 'counting-down' your earth existence….
About 'Countdown'
Countdown is a 2019 American paranormal hoor movie about the prediction of life existence through mobile apps. Written and directed by Justin Dec, the plot follows a group of people who discover a mobile app that accurately tells its users when they are going to die. 
Producer STX Entertainment, theatrically released the film on October 25, 2019, earning gloomy reviews from critics but bagging $48 million worldwide against a $6.5 million budget, resulting in commercial success.
'Countdown' Storyline
At a teenage party, a group of friends downloads the app 'Countdown' that predicts when the user will die. The teenager Courtney sees that she has just a couple of hours to live and does not accept the ride of her drunken boyfriend Evan.
She walks home but she is killed by a supernatural creature when the timer in her cellphone reaches zero. Meanwhile, Evan crashes his car at the same time as Courtney's death and he goes to a hospital where the nurse Quinn Harris works. Evan divulges that he is scared to go into surgery since the app Countdown predicts that he will die at the same time of the surgery.
The doctors and nurses of the hospital decide to download the app and Quinn learns that she has only three days of life. When Evan mysteriously dies in an accident at the hospital, Quinn purchases a new cellphone and realizes that the app is also installed.
When she meets Matt Monroe at the parking lot of the store, she finds out  that his death is predicted for a couple of hours before her and they team-up to look for a means to break the curse.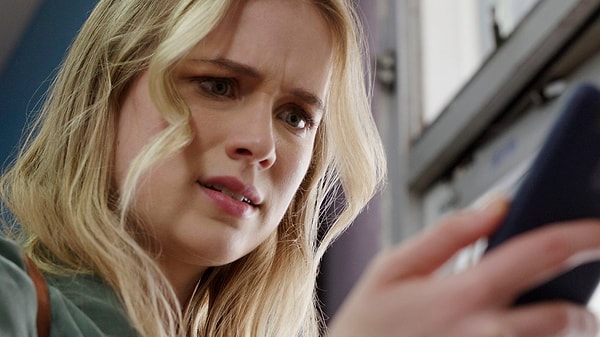 'Countdown' Full Cast And Characters
Elizabeth Lail (Quinn Harris) - a newly appointed registered nurse and the older sister of 
Jordan Harris.
Jordan Calloway (Matt Monroe) - a young man whom Quinn meets at the phone store and team up
 to defeat Ozhin.
Talitha Bateman (Jordan Harris) - the younger sister of Quinn, who joins Quinn and Matt to fight 
against the demon, Ozhin.
Tichina Arnold (Nurse Amy) - the head of the hospital where Quinn works.
P.J. Byrne (Father John) - a demon enthusiast who tries to help Quinn, Matt, and Jordan face Ozhin.
Peter Facinelli (Dr. Sullivan) - Quinn's boss.
Anne Winters (Courtney) - Evan's girlfriend.
Matt Letscher (Charlie Harris) - the widowed father of Quinn and Jordan.
Dillon Lane (Evan) - Courtney's boyfriend.
Tom Segura (Derek) - a tech worker, of whom, according to Quinn, can hack apps, including 
Countdown.
Charlie McDermott (Scott)
Christina Pazsitzky (Krissy)
Jeannie Elise Mai (Allie)
Marisela Zumbado (Kate)
Let us 'Countdown' together as we welcome the movie on Netflix on February 1st.
Scroll Down for Comments and Reactions