News
5 Amber Heard and Johnny Depp Social Media Memes
5 Amber Heard and Johnny Depp Social Media Memes
Social media is ablaze with Johnny Depp and Amber Heard memes, and can you blame them? For weeks, fans from around the world were privy to the inner workings of their relationship- most of it was much uglier than we had ever imagined.
From sliced-off fingers to sexual assault with a bottle, the allegations between the two seemed endless. Depp is seeking 50-million dollars in damages in his defamation lawsuit while Heard is countersuing to the tune of 100 million dollars.
In response, fans took to social media to express their support for either side. Here's a list of our top social media memes.
#MePoo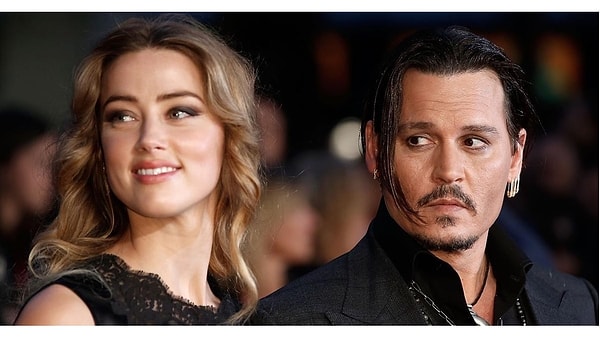 In the closing argument of the well-publicized and followed defamation case, Depp's lawyers argued that this is not a case of #MeToo. Unlike the many women who stood up against sexual exploitation in Hollywood, often with one whistleblower triggering other women to speak up about their own experiences, no other woman followed suit when Heard alleged that the Hollywood A-lister was a wife beater. On the contrary, many of Johnny's ex-lovers spoke up in his defense.
Hence, creative Johnny Depp fans started the hashtag #MePoo- which centers on poking fun at Heard for leaving human feces in her marital bed with Johnny Depp after a particularly violent fight- their last one before their 2017 divorce was finalized.
#AmberTurd
Following #MePoo, Amber also faced the ire of Johnny Depp fans who also started using the hashtag, #AmberTurd.
This particular post says it all. 
'Lmao the dog is looking at her like she did it,' wrote Erikodex on Twitter.
The Sims School of Acting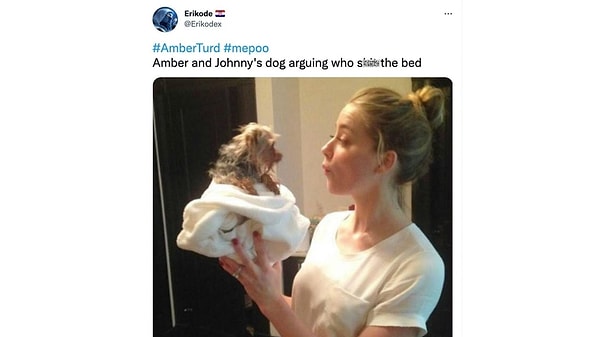 Some people on Social Media seem to find Amber Heard's demeanor on the stand lackluster, even unbelievable.
Deandra Reynolds even went as far as saying Amber Heard looks like she's from the role-playing game, Sims!
Faking it?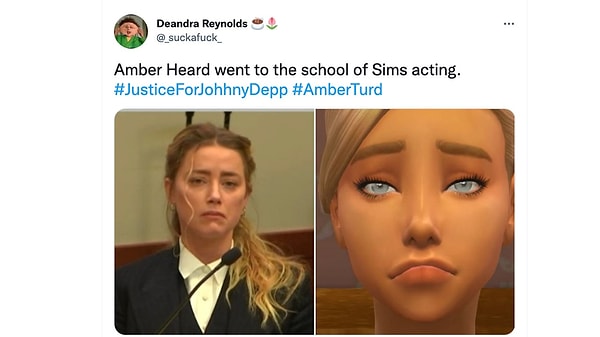 Still, in the same line of thought, is social media reacting to the speed at which Amber is able to switch between emotions?
Reddit user Conan Cimmerian even goes as far as posting this :
Fans give back (to Johnny)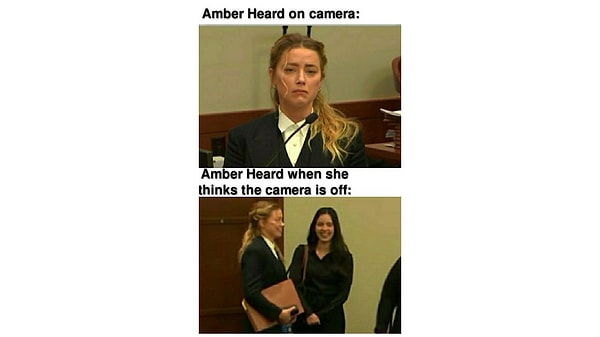 Johnny Depp has had the privilege of one of the longest-running careers in Hollywood- no matter if you watched him in the 1980s in 21 Jump Street, or in the 2000s in Pirates of the Caribbean, or in numerous Tim Burton films, he has captured the hearts of his fans. Those dedicated to him have seen this trial as an opportunity to give back in the form of support.
The BBQPitmaster82 posts this cute Ninja Turtle-inspired meme on Twitter:
Never say die!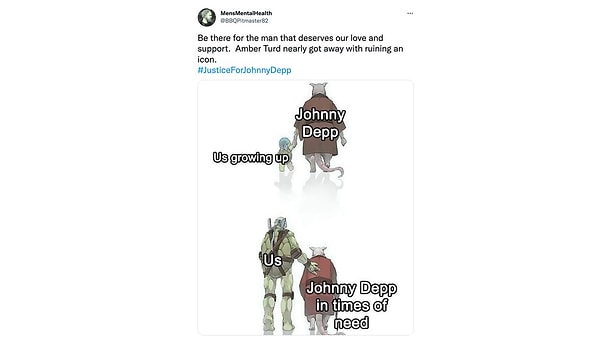 Amber Heard was a tough cookie to crack on the stand. One of the highly contested photos shows two exact same images of Amber but one with seemingly more pronounced injuries than the other.
She defends this by saying that she took the second image with different lighting, something that expert witnesses have debated.
When confronted by Depp's lawyer Camille Vasquez, Amber responds that they are the same photo.
Reddit user The Punisher couldn't help but post his/her disbelief.
Scroll Down for Comments and Reactions