Woody Allen's 'Blue Jasmine' (2013) Hits Netflix This July– Release Date, Trailer, Plot and Cast…
News
>
Woody Allen's 'Blue Jasmine' (2013) Hits Netflix This July– Release Date, Trailer, Plot and Cast…
A wealthy Manhattan socialite runs into financial trouble and is forced to relocate to her sister's apartment. Her domineering character will test everyone's patience.
Helmed by Woody Allen, 'Blue Jasmine' is a 2013  American comedy-drama movie about a New York socialite headed to San Francisco. Allen wrote the movie as well.
'Blue Jasmine' Release Date
Prior to its August 23rd worldwide release in 2013, the movie had a restricted release in New York and Los Angeles on July 26th of the same year.
On Friday, July 1st, 2022, the film will debut on the streaming giant Netflix alongside a ton of other films and shows for release on the same date.
'Blue Jasmine' Trailer
The trailer of the American comedy-drama film 'Blue Jasmine' is available on Youtube and Netflix. The trailer can also be watched below:
'Blue Jasmine' Plot
As a former top-tier New York socialite, Jasmine French is now coming to her estranged sister in San Francisco completely destroyed. Jasmine strives to heal in the present as she battles her eerie recollections of a privileged past filled with horrible realities she chose to ignore.
Unfortunately, Jasmine's narcissistic hangups and their effects start to dominate her, making it all seem like a lost battle. Her previous pretenses and fresh lies start to ruin everyone's lives as a result, notably her own.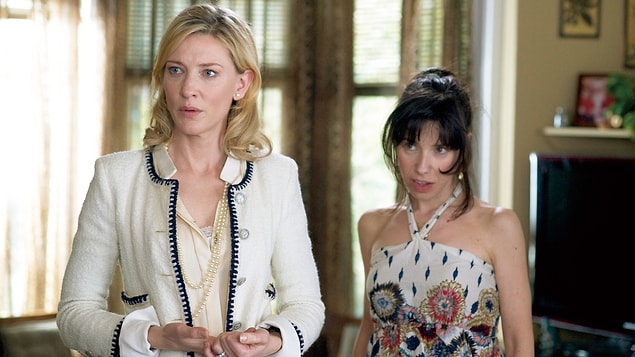 'Blue Jasmine' Cast
Below are the cast members of the comedy-drama film 'Blue Jasmine':
Cate Blanchett as Jeanette 'Jasmine' Francis

Sally Hawkins as Ginger

Alec Baldwin as Hal Francis

Peter Sarsgaard as Dwight Westlake

Louis C.K. as Al Munsinger

Andrew Dice Clay as Augie

Bobby Cannavale as Chili

Michael Stuhlbarg as Dr. Flicker

Alden Ehrenreich as Danny Francis

Charlie Tahan as Young Danny Francis

Tammy Blanchard as Nora

Max Casella as Eddie

Glenn Fleshler as Hal and Jasmine's friend
'Blue Jasmine' Box-Office Success and Accolades
'Blue Jasmine' did well at the box office, bringing in $99.1 million worldwide against an $18 million budget.
In this film, Hawkins and Allen were nominated for Best Supporting Actress and Original Screenplay, respectively, while Cate Blanchett took home the Best Actress in Oscar. In addition, Blanchett received the BAFTA Award for Best Actress in a Leading Role, the SAG Award, and the Golden Globe Award.
Are you looking forward to the coming of  'Blue Jasmine' on Netflix? Tell us what you think in the comment section below!