News
Will Smith is a Sole Survivor in this Post-Apocalyptic Action Thriller Film 'I Am Legend' – Coming to Netflix This July 2022
Will Smith is a Sole Survivor in this Post-Apocalyptic Action Thriller Film 'I Am Legend' – Coming to Netflix This July 2022
Years after a plague turns the majority of people into monsters and just a few people remain, the lone survivor in New York City fights bravely to discover a cure.
Will Smith stars in this 2007 American post-apocalyptic action thriller film 'I Am Legend' which is a third feature-film adaptation of Richard Matheson's novel following 1964's The Last Man on Earth and 1971's The Omega Man.
'I Am Legend' Trailer
The trailer for the post-apocalyptic action thriller film 'I Am Legend' is already available on Youtube. The trailer can also be watched below:
'I Am Legend' Plot
Set in New York City a virus that was originally created to cure cancer, has wiped out most of mankind, leaving Neville as the last human in New York, other than nocturnal mutants. 
For the past three years, Dr. Robert Neville (Will Smith), a former U.S. Army virologist, has faithfully sent daily radio signals in an effort to make contact with any further survivors who might be present. He is defending himself from the Darkseekers and looking for a cure at the same time. The mutant plague victims are known as the Infected keep watch over Neville's every step in case he makes a fatal mistake.
Neville is driven by a single goal: to find a way to utilize his own blood to stop the virus's devastation. He attempts to develop a cure using vials of his blood and is immune to the virus. He is arguably the last and best hope for humanity. He is conscious of the fact that he is outnumbered and that time is limited, though.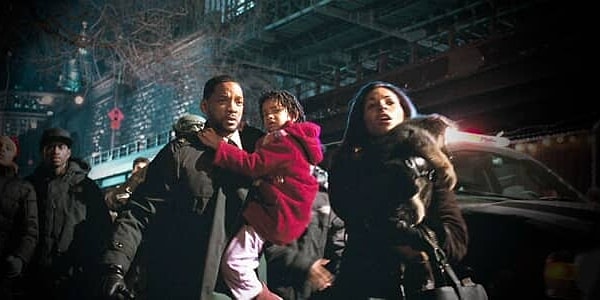 'I Am Legend' Cast
'I Am Legend' features the following cast:
Will Smith as Dr. Robert Neville, a former U.S. Army virologist before the worldwide plague

Alice Braga as Anna Montez, a religious survivor from Brazil

Charlie Tahan as Ethan, a boy from Baltimore, spent time on the Red Cross ship with Anna and accompanied her when the ship was overrun

Dash Mihok as Alpha Male, the dominant male of the vampiric mutant, Darkseekers

Emma Thompson as Dr. Alice Krippin, the doctor who creates the cancer cure

Salli Richardson as Zoe Neville, Robert's wife

Willow Smith as Marley Neville, Robert's daughter

Joanna Numata as Alpha Female, the Alpha Male's mate

Darrell Foster as Mike

Pat Fraley as the voice of the President of the United States

Mike Patton as the voice of the Darkseekers
'I Am Legend' Release Date
'I Am Legend' will be available for streaming on Netflix on Friday, July 1, 2022.
Are you looking forward to the release of 'I Am Legend' on Netflix? Tell us what you think about the movie in the comment section below.
Scroll Down for Comments and Reactions