News
Why Sylvia Hoeks Deserves An Emmy For Her Role As Queen Kane In 'SEE'
Why Sylvia Hoeks Deserves An Emmy For Her Role As Queen Kane In 'SEE'
There's a lot to be said about 'SEE', the AppleTV+ epic that took the world of streaming by storm. It's not a cheap, highly publicized money grab with sexualized characters and a bad plot. It's profound, beautiful, and dark. There was meaning in the story and some amazing acting. But nobody stole the stage quite like Dutch actress and former model, Sylvia Hoeks and her performance as Queen Sibeth Kane. Now that the show is winding down for its third and final season, we'd be remiss if we didn't memorialize her in some way. Heck, we'd give her a statue and a plaque if we could. But we can't. So we're arguing for why she deserves an Emmy.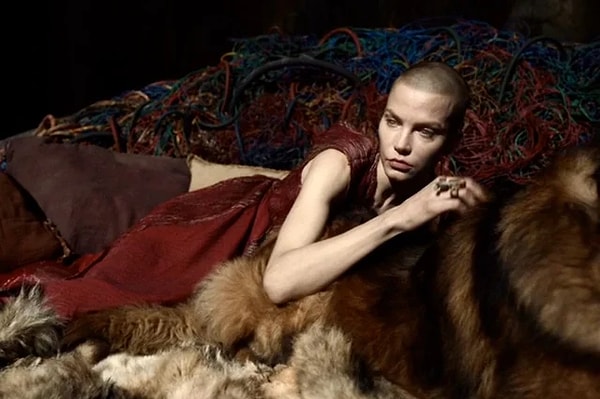 Her Mannerisms
It's a shame that most in the 'SEE' universe are blind. If they could only see how pathetic, deluded, and delightfully beautiful Queen Kane is. With her childish and demanding nature, her shaved head, the way she rings bells for servants, and pouts like a baby. It must not have been easy to play a blind person, but only Hoeks could possibly turn it into a dance, revealing so much about such a monstrous person. Just the way she moved was a performance in itself.
Her Voice
Sometimes it seems as though there's something wrong with Sibeth. Her voice would droll, pitch rising and falling, reflecting anger, fear, and a deluded sense of grandeur as potent as her actual blindness. It was regal and commanding, sometimes trembling, sometimes reaching for something beyond herself. The beauty of it is just how strange and macabre it is, especially during the most inappropriate times.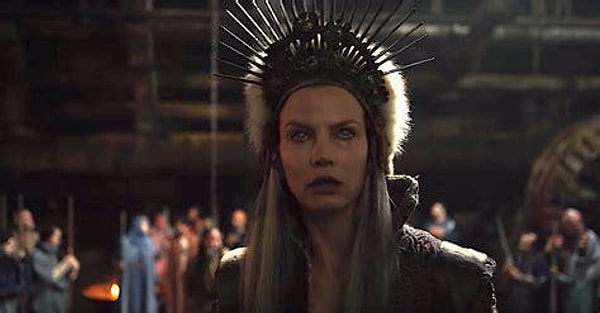 Her Aesthetic
It's hard not to laugh sometimes at the way Sibeth dresses, or how arrogant she is in her manner. Her outfits are indeed works of art, solar crowns, veils, and simple robes. But they're misshapen and on top of her shaved head, with those creepy milky eyes, it seems out of place, almost as if she's playing dress up. There's probably nothing else like it on screen, and Hoeks handles it perfectly. Sibeth has no idea how she looks, just that she's a monarch. She could be wearing the most ridiculous thing imaginable, but she would still act like queen of the universe. Hoeks knows that, and she plays it to the end.
See S2 E6 - Kofun rides with Queen Kane
She's a Formidable Character
It's hard to imagine someone like Sibeth Kane getting far in the world, even with her title. It always seems like things will come crashing down for her, and rightfully so. She's so crazy that even the blind can see her coming. Hoeks greatest feat is making Kane's ability to hold on to power and influence others believable.
Scroll Down for Comments and Reactions