Who is Tommy Lee's wife, Brittany Furlan?
News
>
Who is Tommy Lee's wife, Brittany Furlan?
If you are a fan of heavy metal, then you would absolutely know Mötley Crüe and its drummer, Tommy Lee. But aside from Lee's influence in the music scene, here are a few interesting things that you should know about him:
Tommy Lee starred in the 2004 reality show Tommy Lee Goes to College, a reality TV show that featured him attending the University of Nebraska and attempting to fit in with the students.

He has been married four times!

He is also known for his and Pamela Anderson's on-again, off-again relationship.

Tommy Lee has two children.
A Timeline of Tommy Lee's Dating History
Tommy Lee is probably the epitome of the stereotypical band members who mess around their relationships. Having been engaged and married multiple times, we can say that that can actually be true. Let's take a look at the timeline of Tommy Lee's previous relationships before he said "I do" to his current wife.
1984-1985: married and divorced Elaine Starchuk, one of America's most famous models.

1986-1993: married and divorced Heather Locklear, an American actress.

1994: started dating American model, Bobbie Brown. The two got engaged in June 1994 and broke their engagement in December of the same year.

1995-1998: married and divorced (former) Playboy model Pamela Anderson. This relationship might have been one of the most famous relationships that Tommy Lee had. During their time together, the two had two children— Brandon Thomas (1996) and Dylan Jagger (1997). In 1998, the couple finalized their divorce.

1998-2001: reunited with Pamela Anderson. When Lee was released from prison in 1998 after serving his six-month sentence, he lived together with his ex-wife and their children. The two unfortunately split again in 2001.

2002-2003: engaged to Mayte Garcia, the ex-wife of Prince. The two got engaged when Lee proposed to Garcia before his show in Indiana. Their engagement was called off in 2003.
You might think that that is the end to Tommy Lee's wild dating history, but hang on a bit more!
2008: got back with ex-wife, Pamela Anderson, but soon split for good in the same year.

2014-2017: dated and engaged to Sofia Toufa, a Greek-German singer. Toufa can be considered as one of Lee's long relationships but they broke up in 2017.

2018: met Brittany Furlan.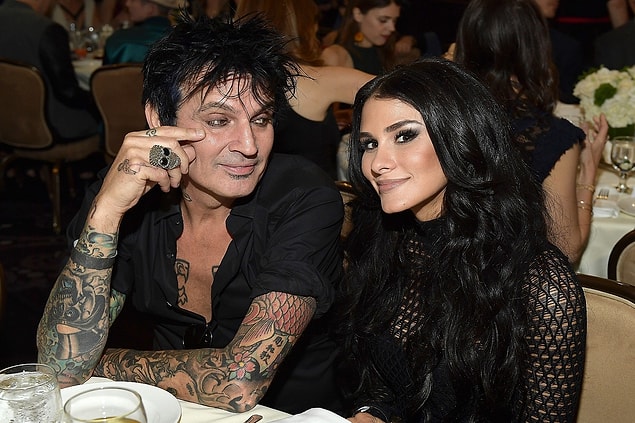 Who is Brittany Furlan?
After a series of dating, engagements, marriages, and divorces in a span of more than 40 years, Tommy Lee must have struck gold when he met Brittany Furlan.
Born on September 5, 1986, Brittany Jane Furlan is known for being the most followed woman on the social media app Vine in November 2015. The American internet and TV personality and comedienne was also known to be one of Time's most influential people in 2015. In 2018, she also starred in the Netflix documentary The American Meme.
You might think that maybe Furlan is just using Lee for his wealth. But during interviews, Furlan admitted that she has saved up quite a fortune for herself from brand promotions on Vine. She was once the most famous artists on the short-format video application after all.
Tommy Lee and Brittany Furlan's relationship
The two started dating in February 2018. Just a year later, the couple got married on February 4, 2019.
At present, they are enjoying their life together so maybe it's safe to say that Brittany Furlan not only found fame and fortune, but also love and of course, his Mr. Right.