News
Who is Jamie Campbell Bower Currently Dating?
Who is Jamie Campbell Bower Currently Dating?
Jamie Campbell Bower is known for his roles in the movies Sweeney Todd, Twilight, Harry Potter, and Fantastic Beasts. The 33-year-old heartthrob captured the imagination of moviegoers with his acting and received critical acclaim for his portrayal of Henry Creel/One/Vecna in the fourth season of Stranger Things. 
The actor has had several public relationships with other celebrities but is currently dating Jess Moloney, a stunning tattooed beauty seen alongside the actor in many photos online. But who is she? Let's get to know her better by taking a quick peek at her achievements. Here's everything we know about Jess Moloney!
Jess Moloney is a 34-year-old creative agent, social media influencer, and entrepreneur from London, United Kingdom. She is the founder of Ice Studio and talent management agency Jess Moloney MGMT. Her work has afforded her to work with many celebrities, including Elle Mcpherson, Machine Gun Kelley, Justin Skye, and Liam Payne.
The 5'7" blue-eyed brunette has around 39k followers on her Instagram @ jmolney 1 (https://www.instagram.com/jmoloney1/?hl=en) and is well-versed in the fashion, beauty, and leisure world, where she has worked for over a decade. Her high-profile partnerships include Chanel, Dior, Gucci, Jimmy Choo, and Louis Vuitton. She is currently managing several celebrities and is proud of her talent roster.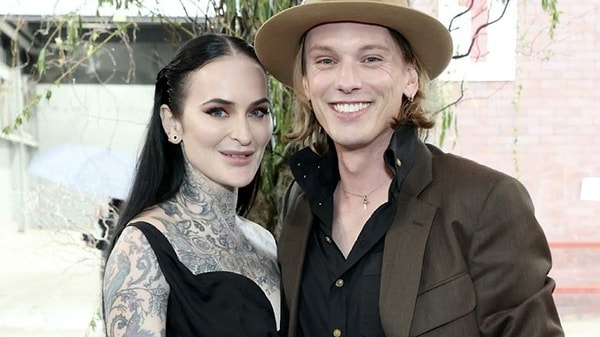 Born and raised in a Christian household, Jess, the tattooed looker, has no time for people criticizing her for her ink. Her body art consists primarily of delicate filigree line work and patterns. Her father, a punk rocker in his younger days, is supportive of his daughter's means of self-expression and wasn't fazed when she got her first tattoo at 13 and her micro dermal implants on her neck years later. She has an older brother named Ryder, who shares her love for tats, and her family is a tight and loving unit. Aside from her passion for tattoos, she is also big on physical fitness, training for IronMan in 2018.
Her success as a social media influencer and her earnings from her talent agency has many people speculating about her net worth. While many contradictory figures are circulating online, it's safe to say that her net worth is over $1 million as of 2022.
Scroll Down for Comments and Reactions