News
Triangle Strategy Is Coming to PC: Release Date and Steam Promo Details
Triangle Strategy Is Coming to PC: Release Date and Steam Promo Details
Tactical RPG fans, celebrate! One of the best turn-based strategy games (formerly) exclusive on the Nintendo Switch is finally coming to PC. Triangle Strategy is coming to PC via Steam on October 13, 2022.
Triangle Strategy was first released on the Nintendo Switch last March 4, 2022. Fortunately for fans of the game and the genre, it will also be available to PC gamers after seven months.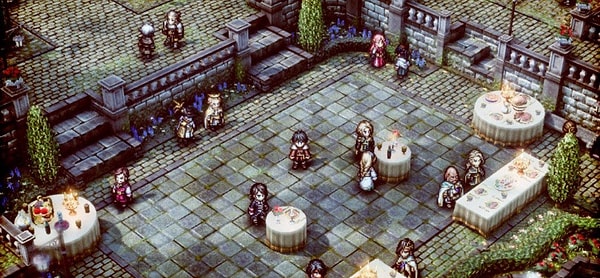 Triangle Strategy Was a Success
Square Enix's big entry to the Tactical Turn-Based RPG genre on the Nintendo Switch was a massive success, selling over 800,000 copies worldwide just two weeks after release.
Triangle Strategy is considered to be in the niche genre of Turn-Based RPGs, but that didn't stop it from doing exceptionally well on the Switch. The game was well-received by fans, and rightfully so.
Many players heavily praised the visuals of the game, with some remarking how well the 2D pixel sprites blend with the 3D world to create a retro but dynamic feel to the game. Players also liked the story and its political theme.
But of course, the main selling point of this game is its gameplay. For those who've played Final Fantasy Tactics or the Fire Emblem Series, the core gameplay of Triangle Strategy will feel very familiar yet still has innovations of its own.
Because of the surprising (maybe not really) level of success that the game achieved, its main illustrator, Naoki Ikushima, shared a sketch on Twitter via Triangle Strategy's official account.
Translation via Google Translate:
"Two weeks have passed since the release.
More than 200,000 in Japan + Asia, and almost 800,000 worldwide (shipment + DL)
Thank you m_ _m
The illustration is from Ikushima with gratitude.
Please continue to support us in the future, Asano-P
Not yet, #次はノゼリアの王を目指してみませんか ?"
10% Off on Steam
Although the game will officially be available on PC on October 13, 2022, it is available now for pre-purchase on Steam.
Luckily, pre-purchasing the game comes with a 10% discount both on the base game and the deluxe edition, which includes the Triangle Strategy Mini-Artbook comprised of 20 pages available for digital download.
Furthermore, you have the option to buy the deluxe edition bundled with the Various Daylife game and digital artbook for an even bigger discount.
Scroll Down for Comments and Reactions