Tim Allen is Back as Santa Claus in Disney Plus's Christmas Themed Series 'The Santa Clauses'
News
>
Tim Allen is Back as Santa Claus in Disney Plus's Christmas Themed Series 'The Santa Clauses'
Christmas is never complete without watching back-to-back movies of The Santa Clause franchise. 
28-years-ago, Tim Allen was the white-bearded saint in the 1994 Christmas comedy film The Santa Clause. He spread his magic again in the sequels, The Santa Clause 2 (2002) and The Santa Clause 3: The Escape Clause (2006).
The clauses are back this Christmas in Disney Plus's The Santa Clauses, a six-episode limited series that premieres on November 16 2022.
What's the Plot for 'The Santa Clauses'?
Getting old and tired, 65-year-old Scott Calvin wishes to retire and spend more time with his family. He journeys south of the North Pole to find a suitable successor. 
That's about it! Get a glimpse of the series' storyline from the trailer video below:
Who Returns to 'The Santa Clauses'?
Fans are more than happy to find out that Tim Allen will be returning as the lead Scott Calvin/ Santa Claus. Other returning casts from the films are Elizabeth Mitchell as Carol Calvin/ Mrs Claus, Eric Lloyd as Charlie Calvin, Scott's eldest son and Carol's stepson and David Krumholz as Bernard, Santa's former head elf. 
The Disney Plus series newly features the talent of Kal Penn as Simon Choksi, an intelligent game and product inventor with dreams to become the next Jeff Bezos, but his life takes an unexpected turn. Penn's character could be the next Santa. 
There's also Austin Kane as Buddy 'Cal' Calvin- Claus, Scott's second son and Carol's firstborn; Elizabeth Allen-Dick as Sandra Calvin-Claus, the last child of Scott and Carol; and Rupali Redd as Grace Choksi, Simon's daughter. 
Rounding up the cast is Matilda Lawler as Betty, Santa's chief of staff; Devin Bright as Noel, Santa's present right-hand elf; and Laura San Giacomo as Befana the Christmas Witch.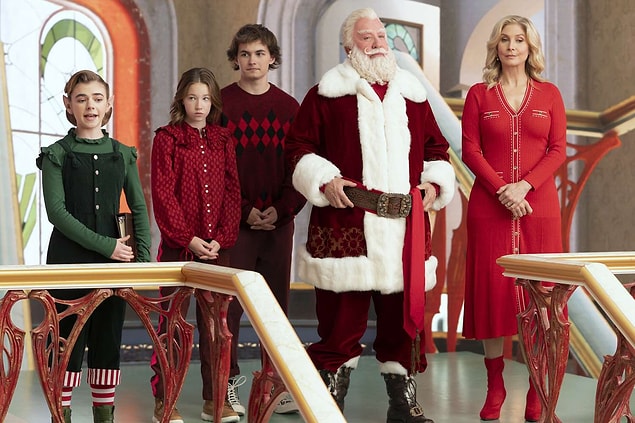 When Will 'The Santa Clauses' Debut?
The Santa Clauses will premiere exclusively on Disney+ on Wednesday, November 16 2022. 
Here's the schedule for the episodes' release dates:
• Episode 1: Chapter One: Good to Ho- November 16 2022
• Episode 2: Chapter Two: The Secessus Clause- November 16 2022
• Episode 3: Chapter Three: Into the Wobbly Wood- November 23 2022
• Episode 4: Chapter Four: The Shoes off the Bed Clause- November 30 2022
• Episode 5: TBA- December 7 2022
• Episode 6: TBA- December 14 2022