News
The Wait is Finally Over- 'The Orville' Season Three Lands on Hulu
The Wait is Finally Over- 'The Orville' Season Three Lands on Hulu
After three years of waiting, The Orville Season three is finally on Hulu after its predecessor seasons launched on Fox. The streaming platform is well-known for homing several captivating sci-fi comedy dramas like Rick and Morty and now The Orville season three.
Synopsis
This new installment is set 400 years later, following Cpt. Ed Mercer, played by Seth MacFarlane and his squad as they encounter the realities and wonders of space exploration. Their mid-level exploratory ships comprise a hearty cast of aliens and human characters.
This series investigates the deep question regarding relationships between different species, intergalactic travel, and the day-to-day obstacles that the crew faces. It continues with this investigation and promises to be more ambitious scope-wise than the other two installments.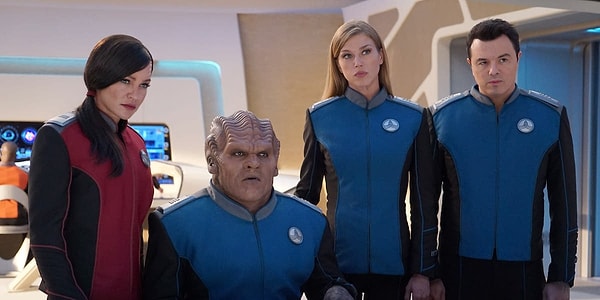 Cast Members
Your characters for the show include Seth MacFarlane portraying Cpt. Ed Mercer, Jessica Szohr enacting Lieutenant Talla Keyali, Norm Macdonald impersonating Yaphit, Halston Sage representing Lt. Alara Kitan, Scott Grimes playing Lt. Gordon Malloy, and Adrianne Palicki depicting Cmdr. Kelly Grayson.
Other characters include  Anne Winters playing Charly Burke, Mark Jackson enacting Isaac, and J Lee impersonating Lt. Cmdr. John LaMarr.
When Will 'The Orville' Season 3 Premiere?
Hulu has taken it to its main Twitter page to share the premiere news accompanied by a 3-minutes 56-seconds video clip for more descriptions. 
The Orville season three will land on our screens on Thursday, June 2nd, via Hulu globally. You cannot afford to miss one!
Scroll Down for Comments and Reactions