The Trailer for HBO Max's Upcoming Crime Drama Miniseries 'The Staircase' is Now Out
News
>
The Trailer for HBO Max's Upcoming Crime Drama Miniseries 'The Staircase' is Now Out
As we continue to eagerly wait for the miniseries The Staircase to drop on HBO Max on May 5, we can feast our eyes on what's to come in the series trailer, fresh out of the oven yesterday.
Trailer
The trailer begins with a happy North Carolina family, complete with flashbacks of a hopelessly in love Peterson couple and their children. The family's joy gets shuttered when Kathleen Peterson is found dead at the bottom of their house's staircase one night. One of the daughters dials 911, and their house soon becomes a crime scene. The peaceful demeanour turns to intense suspense, with the deceased's husband Michael Peterson being the prime suspect in the homicide.
The Staircase is Based on A True Story
The Staircase is inspired by the real events of Kathleen Peterson's death in 2001 when her husband Michael Peterson claimed that she fell down the stairs of their home. Michael was tried for murder, drawing a court case that led to the uncovering of deep secrets about the couple's relationship. 
Netflix released a docuseries also called The Staircase in 2018 based on the murder case from 2001 to 2017.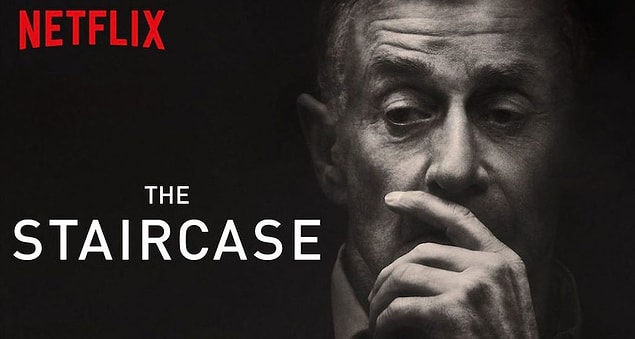 Characters and Cast
The Award-winning Colin Firth portrays Michael Peterson joined by an equally strong Award scooping Toni Collette as Michael's wife, Kathleen Peterson. The Academy Award winner Juliette Binoche plays Sophie Brunet, an editor of The Staircase story who later became Michael's lover. 
Other notable mentions in the limited series include Rosemary DeWitt as Kathleen's sister Candace Hunt Zamperini, Patrick Schwarzenegger as Michael's son Todd Peterson, Dane DeHaan as Michael's son Clayton Peterson, Olivia DeJonge as Kathleen's daughter Caitlin Atwater, Parker Posey as Freda Black, Sophie Turner as Margaret Ratliff, Odessa Young as Martha Ratliff, Michael Stuhlbarg as David Rudolf, Tim Guinee as Bill Peterson, Callen Moss as Jim Hardin, Joel McKinnon Miller as Larry Pollard, Frank Feys as Denis Poncet and Vincent Vermingnon as Jean-Xavier.
How Many Episodes Does the Series Have?
The Staircase is slotted for eight episodes. The first three episodes will drop on May 5, and the rest will make a weekly release till the season finale on June 9. Episode 1: 'Death on the Staircase'; Episode 2: 'Murder, He Wrote'; Episode 3: 'Voids part I'; Episode 4: 'Voids Part II'; Episode 5: 'Suspicions'; Episode 6: 'Trial and Error'; Episode 7: 'Animal instincts'; Episode 8: 'Beyond Reasonable Doubt'.