News
The Riders are back with more Flying Adventures in 'Dragons Rescue Riders: Heroes of the Sky', Season Three
The Riders are back with more Flying Adventures in 'Dragons Rescue Riders: Heroes of the Sky', Season Three
In cooperation with Peacock TV, DreamWorks Animation has brought us the third season of its captivating series, Dragons Rescue Riders: Heroes of the Sky, an offshoot film of the renowned How to Train Your Dragon franchise meant for kids. 
Unlike its parent's logic, Dragons Rescue Riders: Heroes of the Sky presents human kids made by dragons rather than dragons domesticated by people.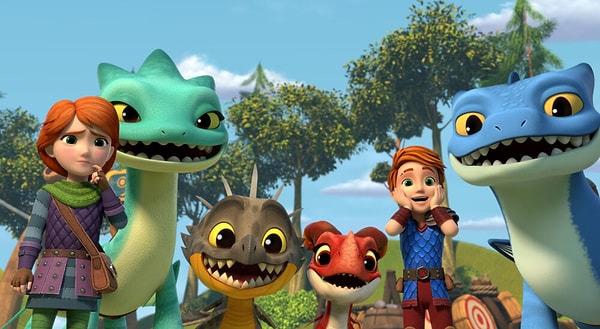 What Happens in Season Three?
This third season follows Layla, Dak, and their scaly creatures as they navigate through many fresh adventures that show teamwork as the main key to success. The trailer reveals the Riders are caring for new infant dragons, encountering a unicorn dragon, and even traversing the oceans alongside the electric creature.
Besides Dragons Rescue Riders: Heroes of the Sky, the parent series How to Train Your Dragon has released another series, Dragons: The Nine Realms, meant for teenagers and older kids. The sibling also follows its mother's formula by presenting the scaly creatures in a modernized style.
Cast and Crew
The following voice characters are incorporated in this series: Marsai Martin, Andre Robinson, Noah Bentley, Skai Johnson, Tara Strong, John MicGinley, Sam Lavagnino, Brad Grusnick, Roshon Fegan, Moira Quirk, Carlos Alazraqui, Brennley Brown, and Nicholas Cantu. Jack Thomas is the chief producer, alongside Brain Roberts as the co-chief producer.
Release Date
Dragons Rescue Rider: Heroes of the Sky will land on our screens on Thursday, May 19th, via Peacock TV. All the episodes of season three will be available to air at once. In the meantime, you can watch the 59 seconds trailer clip release via Peacock's main YouTube channel.
Scroll Down for Comments and Reactions