News
The Ratings of the Classical Dance Musical Film 'Footloose' (1984) Starring a Young Hunky Kevin Bacon will Surprise You
The Ratings of the Classical Dance Musical Film 'Footloose' (1984) Starring a Young Hunky Kevin Bacon will Surprise You
It wasn't until 2017 that I came to watch the 1984 dance musical movie Footloose, having found it stashed somewhere, along with other of my dad's favorite films of the 80s. 
I loved the movie so much that I would repeat it every day that year to listen to its cool soundtrack as well as see Willard dance with two left feet as his best high school friend Ren teaches him how to get into the groove.
'Footloose' Surprising Ratings
For whatever reason, critics weren't as impressed with this feel-good 80s film, which received mixed reviews, rating at 52% on Rotten Tomatoes with an audience score of 71%, a 42% Metacritic score and a 6.6/10 IMDb rating. The top critic reviews also seem to be divided with two positive and a couple of substandard comments.
Movie Info
Ren McCormack moves to a small Midwestern town from Chicago with his mom. He discovers the deep-rooted regulations of the town, governed by the church that forbids listening and dancing to rock music, among other things such as the reading of some 'devil-inspired' books. Ren quotes the rock bands 'Men at Work' and 'The Police' to his clueless friend Willard. 
Ren not only struggles to fit in but faces the church, headed by Reverend Shaw, in an attempt to ease the rules against dancing. It's not easy for him, with the whole town against him except his mom and a few friends.
Cast Members
Another thing I love about Footloose's cast of now widely famous actors in their coming-of-age days. Kevin Bacon as the protagonist Ren McCormack, John Lithgow as Rev Shaw Moore, Dianne West as Vi Moore, Chris Pann as Willard Hewitt, Lori Singer as Ariel Moore and Sex and the City alum Sarah Jessica Parker as the brunette-rocking Rusty.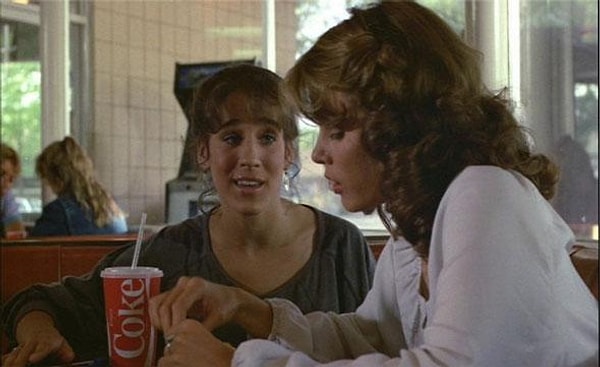 Final Verdict
In my opinion, Footloose (1984) is an underrated classic film that I wouldn't trade for the 2011 reboot. But then again, it depends on what you're looking for. If you're a fan of classics and old-school rock as I am, then Footloose (1984) is your all-time gem. 
Some of the incredible hits featured in the movie include:
• Footloose by Kenny Loggins
• I'm Free (Heaven Helps the Man) by Kenny Loggins
• Let's Hear it for The Boy by Deniece Williams
• Never by Moving Pictures 
• Almost Paradise by Ann Wilson and Mike Reno
• Dancing in the Sheets by Shalamar
• Holding out for a Hero by Bonnie Tyler
Catch the underrated classic movie on Prime Video and now on Paramount+.
Scroll Down for Comments and Reactions