News
The Peripheral: A Different Kind of Cyberpunk
The Peripheral: A Different Kind of Cyberpunk
Amazon took an enormous risk when they decided to adapt William Gibson's novel, The Peripheral. Hardcore fans of the genre are like schools of sharks, ready to attack at the first sign of blood. If the execution isn't flawless; if there's something wrong with the dialogue, the visuals--heck, even the makeup--the work will be critically panned and parodied until the end of time. The fact that the series is gaining any praise at all is a testament to its genius, and it's doing extraordinarily well. 
'The Peripheral' spent weeks in the number one spot on Amazon's top 10 list, and it's still in the ranking months after the premiere.  Reviews are extraordinary. Ratings have remained steady, and people are still trickling in, driven by organic traffic on social media--not advertisements and promotions. The work is holding up on its own, because it is a quality production. It delivers on every level--the visuals, the writing, the acting--and it does so with the necessary flair we've come to expect from the author.
William Gibson is considered a living legend--a man who has fought and scraped his way onto the same shelf as greats like Isaac Asimov and Orson Wells. He's known for coining the term 'cyberspace.' He thought up the internet before anyone could possibly imagine a concept like it, and he's the mastermind behind the cyberpunk genre, without which we wouldn't have films like The Matrix and most of our beloved anime.
He's considered a futurist. He analyzes all of the world's major problems--overcrowding, social issues, and pandemics--and he uses those elements to create a universe gone wrong. He imagined giant slums and cities so full that their inhabitants had to sleep in coffins. There were powerful crime lords, thugs with implants, and addicts hooked on futuristic drugs. The idea was to bring high tech to lowlifes. We never saw humanity's wholesome side. There was no rest, no safety--nothing worth living for, just survival. When everyone else was creating sleek utopias, his characters were puking in the alley behind a dive bar. People loved it. 
That grit has defined Gibson's work. It's his trademark, and while we do see its influence in most modern science fiction, we never see its original essence on screen. Any Gibson adaptation would have to accurately recreate it, like a symphony that's been composed but never played. The fans would have to be convinced of its authenticity, and they'd have to be spellbound by it. It's not an easy task.
Cyberpunk?
When we think of cyberpunk, we think of leather trench coats, sunglasses, and motorcycles. The characters are skilled martial artists. They kick things in slow motion and block punches with ease. They'd haunt places like Neo-Tokyo and futuristic versions of New York--using their distinct sense of style to keep the audience engaged. Hollywood understands this world, and thanks to the Wachowskis, they know how to do it right. Fans understand it as well. To them, that aesthetic is cyberpunk. But while many of these elements are a part of William Gibson's work, they're not a part of the essence of his vision. 
Gibson was concerned with things like wealth inequality, technology that could change lives, and the struggle of the common man. His characters were constantly struggling against a rigged system, hoping to make ends meet, while they went up against super-wealthy titans, thriving off of the suffering of the masses. It wasn't about a specific look. It was about the culmination of all of our current mistakes--gentrification, our refusal to address climate change, disease, and overcrowding--and what the world would become if we continued down our current trajectory. Like any realistic universe, that would take many forms, encompassing many different visual styles, styles of music, and cultures.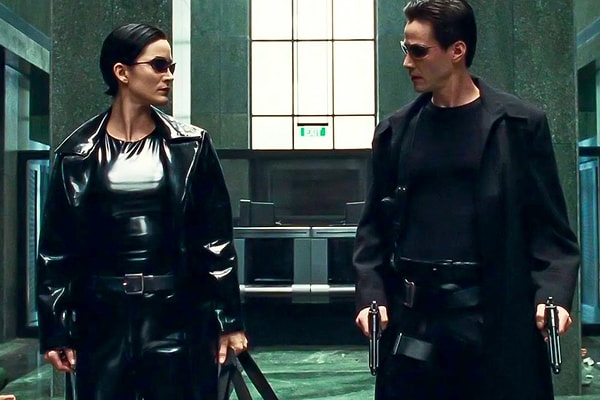 Gibson's most famous novels were written during a very different time. Most people saw computing as a basic diversion. They'd spend a few minutes with a basic arcade game like Pong or Pac-Man, work their hardest to move to the next level, then go back to their normal lives. To them, that wasn't the future. They wanted flying cars and rockets, cities on the moon, and afternoon trips to Mars. It was about muscle, power, and speed. But Gibson believed that the outside world was becoming a bleak, disgusting place and that people were going to turn to an artificial universe, known as cyberspace, for excitement. This message didn't resonate with the mainstream, masculine culture of the time. In fact, it defied all sense. Nobody was thinking like him, no matter who they were. It simply didn't make sense to put stock in those machines. They were too simple and too time-consuming. Nobody cared about basic rectangles jumping around on the screen and there were so many other things to get excited about. 
But as the years went by, Gibson's ability to look into the future became more and more apparent. Like many good authors, he tapped into an emerging cultural vein. It began with the nerds, unrepentant tinkerers who spent their time putting together computer parts, trying to one-up each other's inventions. They existed on the sidelines, put on the back burner by rockers and fashionistas, the alphas of the 1980s. Gibson targeted that demographic, and he created a style that they would love. It caught on fast. By the time the internet had taken hold and there was a PC on every desk, it was already firmly established as a genre, and people were starting to copy it.
The culture began to shift during that time. Once pixel art was replaced with 3D textures, and consoles had moved into the next generation, everyone began to take note. A different kind of gamer began to emerge. These were the alphas and the rockers, the kids that attacked anyone who was different, and they were ready to wreak digital havoc. They spent their afternoons blowing things up, learning to use miniguns, grenade launchers, and laser pistols. It was around that time that we started to hear about the violent nature of video games. Kids were being trained for war, and many of them learned how to handle a rifle better than trained soldiers.
This new demographic was the polar opposite of Gibson's usual crowd. They were the beer and muscle car types. They frequented dive bars and drank like fish. They leaned right politically, and they weren't about to go for those leather jackets and trenchcoats. Just like he did in the 1980s, Gibson saw this new crowd coming, and he adapted his work to fit them. The Peripheral was his response to the changing climate. He abandoned the big city and the slums and brought us to the country, where everyone drove a big truck, and they knew how to take it apart and put it back together again.
But it was still cyberpunk. It still embodied his main themes. The characters were poor, everyday men and women struggling to fight a rigged system. They went up against super-wealthy titans who made their living hurting the little guy. It was just packaged to fit a different audience. It included their favorite game genres, their attitude toward gaming, and their love of real-life warfare. Gibson knew this crowd. He knew what they wanted to see, and so did Amazon. They hit their mark every time. 
They also learned to balance this new style with the expectations of hardcore fans. When the characters put on their new headset, they were transferred to the world of traditional cyberpunk. There was black leather and motorcycles, ornate parties, and strange fashions. They gave us the best of both worlds, and they knew how to do it right.
Scroll Down for Comments and Reactions