News
'The Mummy' Villain Plays Sinister Role in War Movie 'Condor's Nest'
'The Mummy' Villain Plays Sinister Role in War Movie 'Condor's Nest'
Phil Blattenberger, a writer, director and producer best known for the war film Point Man (2019), has another battle flick lined up, Condor's Nest. The war film stars Hollywood greats, including this cast famous for his ominous role in The Mummy (1999) and its 2001 sequel. 
Without further ado, let's get into the upcoming film's deets.
'Condor's Nest' Premise
Based ten years after World War II, American war vet Will Spalding tracks down the callous Nazi Colonel Martin Bach, who eliminated his bomber colleagues during the War. 
Will discovers a secret Nazi nest in the heart of South America and learns that his revenge mission may be more than what he bargained for. Check out the trailer below:
'Condor's Nest' Cast List
Jacob Keohane of Point Man assumes the role of Will Spalding. We also have Jackson Rathbone of The Twilight Saga as Fritz Ziegler, Michael Ironside (Free Willy), as Agent Astakhov, Jorge Garcia (Lost) as Proprietor Hipolito, Bruce Davison (Paulie) as Gerhardt Schrude, James Urbaniak (The Nanny Diaries) as Heinrich Himmler and Arnold Vosloo of The Mummy and The Mummy Returns as Colonel Martin Bach.
Rounding up the cast list are Michael Tourek as Rudolf Zinke, Jamie Roy as Sergeant Lewis, Adrienne McQueen as Schelling, Greg Kriek as Josef Krekeler, Brandon Tyler Moore as Trooper Olbricht, Al Pagano as Albert Vogel, Jason Alan Cook as Blegen, Matthew Ewald as Sergeant Kelly and Alex Javo as Javier Montero.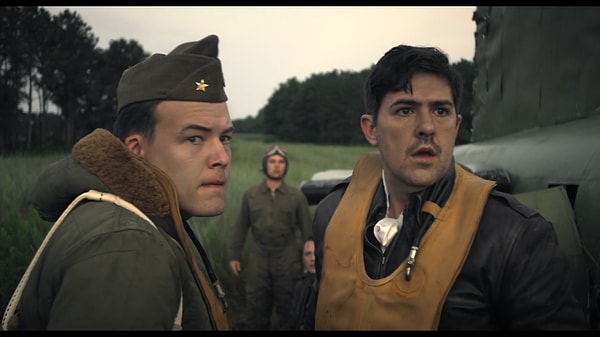 Where Have You Seen Arnold Vosloo Before?
Though Vosloo is popularly identified as Imhotep, the evil Mummy priest, he has also featured in other action thriller drama films such as Odysseus: Voyage to the Underworld (2008), Living & Dying (2007), Con Express (2002), Death Train (2006), The Red Phone: Manhunt (2001), Endangered Species (2003) and Diary of a Serial Killer (1998) among others. 
He also had a guest-starring sinister role in the original Charmed season 2 as Darklighter. He most recently starred as the lead in the Netflix action drama series Ludik.
Condor's Nest premieres on January 27, 2023, distributed by Saban Films and Paramount Pictures.
Scroll Down for Comments and Reactions