News
'The Last Bus': Release Date, Cast, Trailer, Plot
'The Last Bus': Release Date, Cast, Trailer, Plot
A ragtag group of misfit schoolkids come together to take on a terrifying new machine intelligence.
Paul Neafcy wrote and created 'The Last Bus', an upcoming Netflix Original British sci-fi comedy series. Drew Casson, Lawrence Gough, Steve Hughes, and Nour Wazzi shared directing duties on the series, which was produced by Wildseed Studios.
'The Last Bus' Release Date: When Will It Be Aired?
Netflix's newest British comedy series 'The Last Bus' is coming on April 1st. The series comprises 10 episodes.
Is There A Trailer For 'The Last Bus'?
Yes, there is a trailer for The Last Bus in which you can see our unlikely heroes for the first time. The trailer depicts massive garbage monsters and terrible machines, indicating that the youngsters will undoubtedly encounter their difficulties. Take a peek at the video below...
What Is The 'The Last Bus' Plot?
'The Last Bus' follows a group of students on a field trip to the unveiling of 'genie orbs,' a new sort of robot invented by tech millionaire Dalton Monkhouse (Robert Sheehan) to help clean up the environment.
However, the robots appear to vaporize everyone in the audience as soon as they are presented to the world. And it appears that similar instances have occurred all throughout the world.
The children manage to flee the carnage and return to their school bus, but they find themselves in a strangely empty world when they arrive home. With no other option, the determined party embarks on a road trip to find Dalton Monkhouse and demand answers. However, the journey will not be simple, as they will have to contend with everything from gigantic rubbish monsters to an orb with a vendetta.
Will the youngsters be able to save the Earth from the impending robot apocalypse?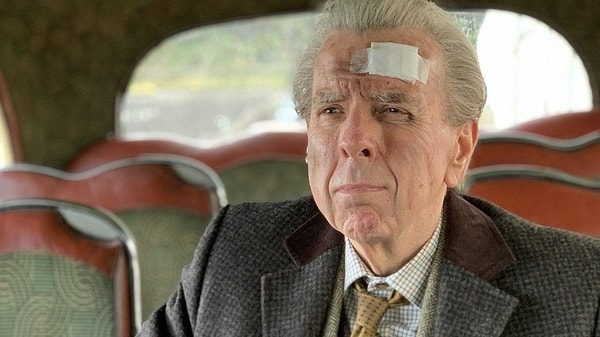 Who Is Involved In 'The Last Bus'?
The ensemble cast of The Last Bus includes:
Dalton Monkhouse, played by Robert Sheehan, is a tech billionaire who may have the answers the kids are looking for when it comes to psychotic robots. He starred in Netflix's The Umbrella Academy, Genius, and Love/Hate.
Tom Basden's character in The Last Bus is yet to be revealed, but he's already stolen our hearts in Ricky Gervais' Netflix comedy After Life as Matt, Tony's big-hearted brother-in-law Matt. He also stars alongside his After Life co-star and Motherland actress Diane Morgan in the BBC2 program Mandy as a benefits advisor.
Daniel Frogson (His Dark Materials), Curtis Kantsa (Blue Story), Lauryn Ajufo (Boiling Point), Lara McDonnell (Belfast), Carys John (School of Rock), Nathanael Saleh (Game of Thrones), Moosa Mostafa (Tim Burton's Wednesday), Carys John (School of Rock), Nathanael Saleh (Game of Thrones), and Moosa Mostafa (Tim Burton's Wednesday). Marlie Morelle and Phoebe De Silva are complete rookies who were cast after a nationwide search for their first acting jobs.
Are you looking forward to watching 'The Bubble' on Netflix? Let us know in the comment section below.
Scroll Down for Comments and Reactions