The Creepy Truth Behind 'Monster' Jeffrey Dahmer's Yellow Eyes
News
>
The Creepy Truth Behind 'Monster' Jeffrey Dahmer's Yellow Eyes
One of the hottest topics currently on social media is the trending Netflix adaptation show titled 'Monster: The Jeffrey Dahmer Story'. The 10-episode show portrays the real-life story of the serial killer Jeffrey Dahmer with his several crimes and assaults. Yet, what caught the attention of many was the yellow sunglasses worn by Dahmer during the time of his killing spree and up to his trial.
In the Netflix real-life adaptation show, the Hollywood actor Evan Thomas Peters played the role of the serial killer Jeffrey Dahmer. The entirety of the 10 episodes tells us the story of his life from the moment he was born, during his crimes, and until he was beaten to death by the hands of his fellow inmate, Christopher Scarver, on November 28, 1994.
Throughout his untidy journey, he wore a pair of 70's style eyeglasses and yellow-colored contact lenses. As you read on, you'll find out the answer to the popular question that shows how much he loves the color yellow.
The Scary Reason Behind Dahmer's Yellow Contact Lenses and His Obsession with Yellow Eyes
The reason why Jeffrey has piercing and unsettling eyes is probably that he often wears yellow contact lenses. He was born with blue eyes, but he usually wears yellow contact lenses before going to a bar and carrying out his murderous plan.
According to Gisela K, the author of Monster: The Jeffrey Dahmer Story, Dahmer was obsessed with the Star Wars character Emperor Palpatine and with the film Exorcist III. Through wearing the yellow contact lenses, he feels like he is in the shoes of his favorite villains.
Furthermore, according to Gisela, Dahmer used to watch The Exorcist III for 2-3 straight weeks within the 6 months before he was held in captivity. He idolized the antagonist of the horror film so much that he wore yellow contact lenses to be like him.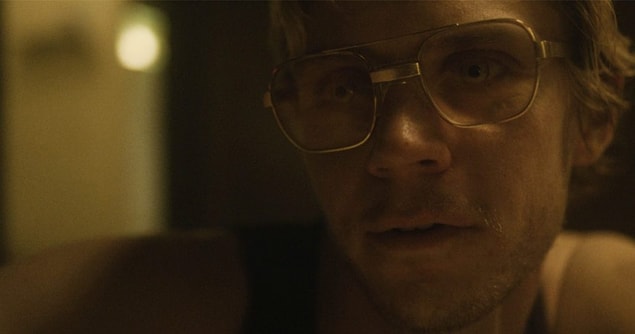 Did Dahmer Ever Take Off His Lenses?
As we have seen in the Netflix show adaptation, Dahmer did not wear his favorite contact lenses while he was in court, although he used to wear them for a huge portion of his life. Why? It's for one reason: he didn't wear the glasses, so he couldn't see anyone inside the courtroom or make eye contact with them, especially the families of his victims. Her stepmom, Shari Dahmer, stated that he panics whenever he sees those people, and the possible reason is that guilt swallows his entire being.
However, Dahmer put his eyeglasses back on for one last time after he had piled up 15 life sentences that he would pay in prison. Even though Dahmer begged for his own death, he did not get it because Wisconsin had already done away with the death penalty before he was even tried for his crime.