News
The Comedy Drama Series 'Ginny & Georgia' Returns for a Second Season on Netflix: Here's the Trailer
The Comedy Drama Series 'Ginny & Georgia' Returns for a Second Season on Netflix: Here's the Trailer
Netflix finally released a trailer for the second season of the comedy-drama series Ginny & Georgia, and the premiere date is Thursday, January 5 2023. 
The sophomore season comes nearly two years after the first season's debut.
What Happens in the Trailer?
Things don't seem good for Ginny and Georgia's mother-daughter friendship from the looks of the trailer. 
Ginny states, 'My whole family's broken,' while her prospective boyfriend Marcus feels something's not tight with her. Indeed, Ginny has a lot going on, considering that she found out her mom Georgia is potentially dangerous, and she killed someone as warned by a P.I. 
Ginny has to figure out how to live with the fact that her mom is a murderer. She is also burdened with the revelation that her stepfather Kenny didn't die of natural causes and that whatever her mother did, she did out of love.
Revelations of 'Ginny & Georgia' Season 2
Choosing to bury the past and start a new one, Georgia has a wedding to plan. But how long will she hide her skeletons before they resurface? Though their mother-daughter bond is on the rocks, Georgia is amazed to have Ginny for a daughter.
Despite the tension between Ginny and Georgia, on the bright side, things are looking up for Ginny and Marcus as the two seem to get closer. We see them holding hands at school, and Marcus tells Ginny, 'You make sense to me. I'm damaged, and I'm scared I'm going to screw up.' Fingers crossed he doesn't!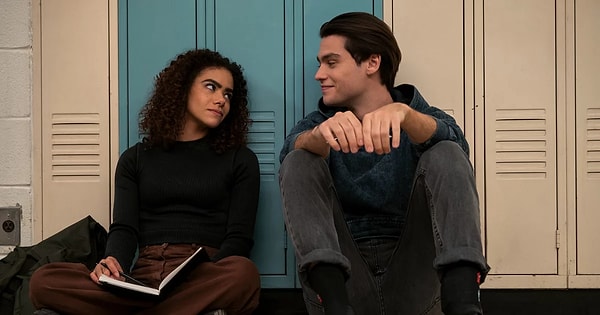 Who Returns to 'Ginny & Georgia' Season 2?
Most of the previous season's cast are set to reprise their roles, including, of course, Antonia Gentry as Ginny, Brianne Howey as Georgia and Diesel La Torraca as Ginny's young brother Austin. 
Felix Mallard also returns as Marcus Baker, Jennifer Robertson as Marcus' mom, Ellen Baker; Sara Waisglass as Maxine Baker, Marcus' sister; Humberly González as Maxine's love interest Sophie; Scott Porter as Georgia's fiancé Mayor Paul Randolph; Mason Temple as Hunter Chen, Nathan Mitchell as Zion Miller, Ginny's biological father and Raymond Ablack as Joe.
When Will 'Ginny & Georgia' Premiere?
Ginny & Georgia season 2 lands on Netflix on January 5 2023, with ten episodes like the previous installment.
Scroll Down for Comments and Reactions