News
'The 355' Is Just As Bad As Everyone Says It Is
'The 355' Is Just As Bad As Everyone Says It Is
Releasing theatrically in early January and streaming on Peacock starting February 22, 2022, The 355's poor timing for release during the rise of the Omicron variant made for a box office failure. Does this international action/thriller deserve a chance for redemption, or is it worth skipping? It depends on whether or not you want to see the same kind of movie you have seen a hundred times before.
Plot of 'The 355'
When a device capable of controlling any computer system on the planet comes to global attention, every criminal syndicate and government agency wants to get a hold of it. When five field agents from separate countries fail to collect the device alone, they realize they must team up to get the device before the world erupts into chaos.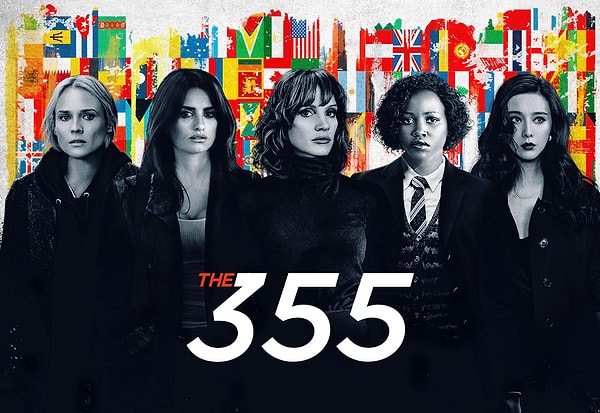 Another Unsuccessful Venture from Simon Kinberg
Simon Kinberg wrote and co-wrote numerous action films since his first two screenplays, XXX: State of the Union and Mr. & Mrs. Smith, released in 2005. After working on most of the X-Men films since then, Kinberg directed his first film using his screenplay Dark Phoenix. This last X-men film got nominated for the Golden Raspberry Award for Worst Prequel, Remake, Rip-off, or Sequel. On the set, he talked with Jessica Chastain, star of The 355, who approached him with the idea. Kinberg's second feature shows again that his direction is bland and derivative, always taking the most straightforwardly dull route to show off these action stars.
Cast
Jessica Chastain - CIA officer Mason 'Mace' Browne

Diane Kruger - German BND agent Marie Schmidt

Lupita Nyong'o - MI6 agent Khadijah Adiyeme

Penélope Cruz - DNI agent and psychologist Graciela Rivera

Fan Bingbing - MSS agent Lin Mi Sheng

Édgar Ramírez - Luis Rojas, a DNI agent

Sebastian Stan - Nick Fowler, a CIA officer and Mace's former colleague
Should I Watch 'The 355?'
Like the large number of action films produced in any given year, The 355 does not hold its own and frustrates more than it entertains. With more double-crosses than a heist film and not one bit of inspired dialogue, there's nothing in The 355 beyond the surface of seeing the faces of great actresses on the silver screen together. The action choreography is subpar, especially compared to recent revitalizations of the art of fight scenes in films like John Wick. Ultimately, each groan-inducing push to the next action scene, followed by an unsatisfying bout of guns and quick cuts, makes every passing scene until the convergence of the final minutes increasingly uninteresting. Bringing together everyone at the end is hardly worth the two hours it takes to get there.
Rating: 3/10
★★★☆☆☆☆☆☆☆
Watch The 355 now only on Peacock, or the service also has Salt, Lucy, and Hanna for some more inspired action flicks!
Scroll Down for Comments and Reactions