News
'Strays': An Upcoming Live-Action Animated Adult Comedy Film Featuring These Ensemble Voice Casts
'Strays': An Upcoming Live-Action Animated Adult Comedy Film Featuring These Ensemble Voice Casts
This just in! Universal Pictures dropped the official trailer for its forthcoming live-action animated adult comedy movie Strays a day ago. 
You won't need an itinerary for some of the film's voice casts as the tone speaks for itself! 
Here's the trailer video below:
'Strays' Plot
As shown in the trailer, Reggie is a happy-go-lucky little Border Terrier who loves his life and his crotchety owner Doug. Doug seems frustrated about life and ill-treats his furry companion, but optimistic Reggie doesn't mind, calling him the best owner in the world. 
Doug makes several attempts to abandon Reggie by throwing him a ball in a wilderness somewhere and taking off with his car. But Reggie always manages to get home. One day, however, Reggie winds up getting lost in a game of fetch, and ends up meeting a group of stray pups. 
His new stray companions enlighten Reggie that his owner had abandoned him, who was earlier under the impression that Doug would come back for him. Frustrated Reggie then vows to trek his way back home and seek revenge on Doug, clearly putting it, "I'm gonna bite his dick off!"
Reggie and his doggie friends take a hysterical trip, where they teach him some survival tricks, and he learns that he doesn't need an owner to be happy. But the ultimate goal is to avenge Doug.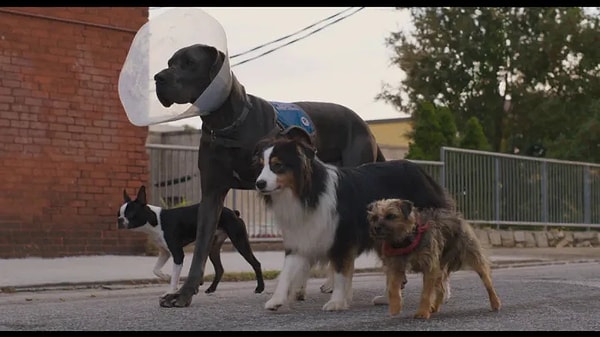 The Cast List
Will Ferrell voices the jolly Reggie, with Jamie Foxx joining him as the voice of Bug; a foul-mouthed Boston Terrier. They are joined by Isla Fischer and Randall Park voicing the other stray companions, Maggie; an intelligent American Shepherd and Hunter; a robust Great Dane. We also have Will Forte as Reggie's owner Doug. 
The rest of the cast list is rounded up by Rob Riggle, Josh Gad, Sofia Vergara, Harvey Guillen, Brett Gelman, Jamie Demetriou, Hannah Alline, Taylor Antonius, Hedy Nasser, Jade Fernandez, Andrea Laing, Tinashe Kajese, Alexandra Ficken, Charity Cervantes, Dan Perrault, Aven Lotz, Garrett Hines, Gabriella Garcia and Deadra Moore.
'Strays' Release Date
Strays is directed by the celebrated Josh Greenbaum and scribed by Dan Perrault. 
It is expected to head to the theaters on June 9 2023.
Scroll Down for Comments and Reactions