News
Blippi Net Worth: Who is The Man Behind The Educator?
Blippi Net Worth: Who is The Man Behind The Educator?
Learning is easier when you are having fun, and for kids of restless imagination and enthusiasm, browsing through colorful charts and unmoving characters in story books and building blocks while counting numbers will never be enough anymore. There are lots of kids' entertainment shows produced to keep kids on their chairs and capture their interest, resulting in an informative viewing. 
Some shows got you singing while seeking clues, like in the show of Josh and his dog called Blue's Clues; others are animated animals like Baby Shark and Peppa Pig, rescue teams like Wonder Pets, Barnie and Friends, Cocomelon, and a lot more -- all made to be your kids' playful educators. Joining the team of these creative educators is Blippi, a content creator on Amazon Video and YouTube.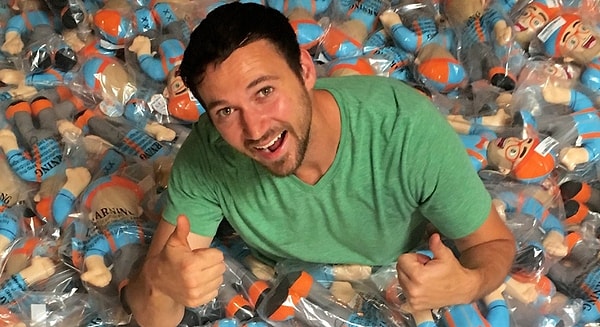 With the intent to inject a quality education that would catch the attention of the kids around the world, this man in a bright blue shirt and orange suspenders, topped with a blue and orange beanie cap, a bow, and glasses, came around to play! By and by, kids are not just the only ones curious about Blippi; adults' eyes are on him too, wanting to know about his whereabouts. As exciting as Blippi's shows are, this article will introduce you to the world behind Blippi's camera, and eventually we will discover how wealthy he became from his million viewers and fans.
Who is Blippi?
Behind the cameras, Blippi is just Uncle Steven John of Las Vegas. On the 27th of May, 1988, he was brought into existence. Tractors, cows, and horses were his playmates as a child, and this environment made his dream of being either a limousine driver or a fighter pilot. One of his childhood dreams then came true in his adulthood when he began serving in the United States Air Force as a military veteran. At the 4th Airlift Squadron, Steven was also in charge of loading the C-17 Globemaster plane.
After quitting the military forces, Steven worked as a video editor and a marketing consultant. However, seeing his 2-year-old nephew watch poor-quality Youtube videos to be entertained shook the sleeping Blippi out of uncle Steven's sleeves. On that day, Steven decided to channel his inner childishness and began making things that kids around his nephew's age would surely enjoy. In 2014, Blippi's character started collecting kids' attention online by offering educational videos with a blast of youthful energy all over the show. His shows then began dominating online platforms like Youtube, Hulu, Netflix, HBO Max, and Amazon Prime Video.
In 2021, Steven got engaged to Alyssa Ingham, his long-time girlfriend.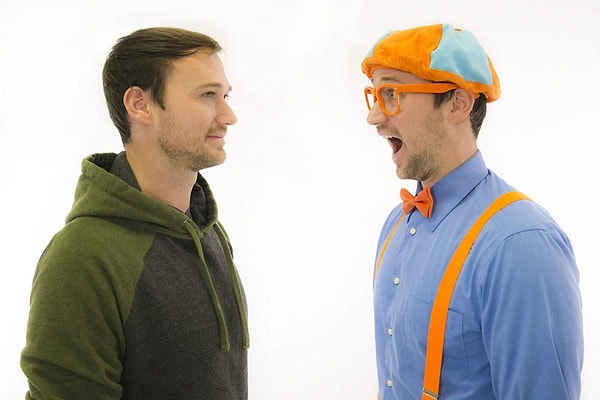 Steven John's Income
Blippi, despite his enthusiasm on camera, did not start big. During his early days, he would single-handedly do all the things that a production team was supposed to do. He was an actor, director, editor, cameraman, lightman, and content creator for his own channel, but all of his exhaustion ended beautifully after crossing the billion-view mark on his uploads.
His goal of producing high-quality videos for kids started to happen after teaming up with his production crew and expanding his operations along with his professional editing team.
From his over 310 million viewers on his video 'Videos for Toddlers with Blippi: Learning Colors and Numbers,' he gained around $2.4 million. He would also earn more than $18,000 a day for his YouTube channel ads alone. Day by day, Blippi's vibrant content is visited by 6,000 new curious minds, generating an income of $25,000 per day. How did this happen? Obviously, it was Blippi's way of producing the promised high-quality content. Acting like a child, dressing like a child, and, above all, thinking like a silly restless kid is what made this channel a big hit.
At first, Steven thought that Blippi was silly; however, with the support of his family and nephew, his work became a vibrant show that pulls in a lot of bubbly viewers ready to be educated while being entertained. Parents usually are not fans of a silly adult jumping into a child's outfit, which became one of the reasons for Blippi's success. They tend to enroll their kids in Blippi's channel for their own convenience, thus adding to the viewers and subscriptions.
Because of Blippi's popularity, Steven got the opportunity to release his merchandise, like Blippi toys, clothing items, and plushies that recited some of Blippi's well-known phrases. In 2020, the Blippi franchise was purchased by Moonbug Entertainment. Through this, Blippi's educational videos are dubbed into several languages, including German, Italian, French, Spanish, and more.
Stevin John Created Blippi
Steven John Net Worth
Blippi, who always has a lot to offer for his kiddie viewers, also received a lot of deals and offers. With all his millions coming from his career earnings, revenues from his channel, and other related Blippi businesses, a survey revealed that Steven's overall network hammered a total of $16 million as of November 2022. His fortune put him in the position of being one of the biggest child entertainers on YouTube. In 2020, he was named one of the most-paid Youtube content creators worldwide and earned $17 million for the title. With his dollar bills, Steven bought a 4,00 sq. ft. home in Las Vegas for $650,000 and eventually sold it in 2020 for less than $700.000. He also purchased a 4,100-square-foot family home in Los Angeles for $2.8 million in the same year.
Blippi, even though originally meant for kids, made an impact worldwide for his positivity and passionate approach toward learning. Work smart, not hard, as we say, and just like these creative educators, one must know that kids' perception is not as simple as adults think it is. Blippi's online popularity can be distinguished as children's demand for an interesting learning process. All kids want to learn, be productive, and be smart, and their cognitive development lies in the hands of adults. To simplify, if you want your child to learn from you, you must first fit your feet into their shoes, and so you will know how smart a child can be. 'Think like a kid; educate like Blippi!'
Scroll Down for Comments and Reactions