News
Stars Post Tributes to Takeoff Following Shooting
Stars Post Tributes to Takeoff Following Shooting
Tributes to Migos rapper Takeoff have flooded in since the 28-year old was shot dead in Houston in the early days of Tuesday Morning.
Takeoff, real name Kirshnik Khari Ball, was shot dead at a bowling alley after a reported disagreement over a game of dice.
Some of hip hop's biggest names have paid tribute to the Georgia-born artist since news of his death emerged.
Stars such as Gucci Mane, Kid Cudi, Ja Rule and Lil Pump have posted messages of condolence to social media in the wake of the tragic incident.
'This broke my heart. Rest In Peace,' Gucci Mane posted to his social media.
Quality Control, the artist's record label, also released a statement.
'It is with broken hearts and deep sadness that we mourn the loss of our beloved brother Kirsnick Khari Ball, known to the world as Takeoff,' the statement read.
'Senseless violence and a stray bullet has taken another life from this world and we are devastated. Please respect his family and friends as we all continue to process this monumental loss,' it added.
Fellow Migos member, Quavo, who is also Takeoff's uncle, was present at the incident and posted a heartfelt message to his Instagram account.
In the message, the rapper stated that anybody that knew Takeoff knew that he 'definitely didn't deserve to die at such a young age.'
Quavo called for an end to the violence in the Black community in America.
'I want our community to remember that we don' have to continue to result to violence every time there is a disagreement,' he said.
Quavo also called for understanding of what Takeoff's family is going through, especially with regards to images and videos of the incident being shared online.
'This is somebody's child. Let them get thru this process with peace and love,' he said.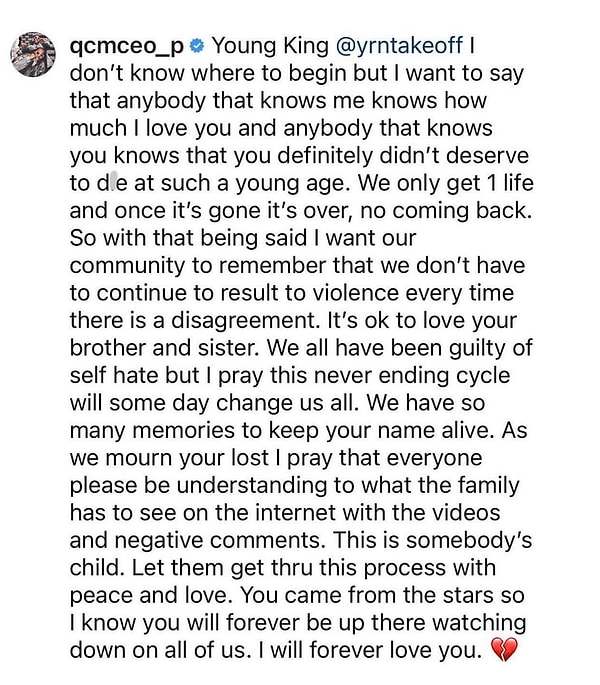 The Incident
The shooting occurred near the 810 Billiards and Bowling Alley in Houston, where Takeoff was reported to have been playing dice.
After an altercation, a gun was drawn and Takeoff and two others were shot. The other two victims were rushed to hospital in private vehicles.
According to police in Houston, they found a man with a gunshot wound to the head at the scene upon their arrival and he was later pronounced dead at the scene.
According to their reports, there had been 40 to 50 people present at the location and they have pleaded for witnesses to the shooting to come forward.
'Please step up, get the information to us so we can bring some closure to this family who's hurting right now,' Houston Police Chief Troy Finner asked the public at a press conference.
In the group Migos, Takeoff had enjoyed much success in the hip hop world.
Along with Offset, Takeoff's cousin, Migos had begun performing in 2008 as 'Polo Club' out of their hometown in Lawrenceville, Georgia.
According to previous interviews width the band, rap music offered them the possibility of escaping the poor lives they grew up together in.
They began performing as 'Migos,' in 2010 and found their first success in 2013 with the song 'Versace.'
Migos - Versace (Official Video)
The group's 2016 hit 'Bad and Boujee,' became a viral hit and catapulted the band into the mainstream music scene.
Their later work would see them join forces with some of the heavyweights of the hip hop genre.
The album 'culture II,' released in 2018 saw the group receive production on songs from the likes of Kanye West and Pharrell Williams.
Artists such as Nicki Minaj, 21 Savage, Drake and Cardi B, who would later go on to marry Offset, were all featured on tracks from that project.
Migos, Nicki Minaj, Cardi B - MotorSport (Official Video)
Each artist also released solo ventures in the wake of their success in 2018.
Despite their ongoing success, the group splintered earlier this year, with Quavo and Takeoff parting ways with Offset.
The true reason for the split has never been given but an interview earlier this year with the 'Big Facts' podcast saw Quavo speak about 'loyalty,' to the group.
Takeoff and Quavo, 32, continued to make music together. Last month, they released the album, 'Only Built for Infinity Links,' together under the act name of 'Unc & Phew.'
The duo released a new music video on Monday for their song 'Messy,' from that album.
Quavo & Takeoff -"Messy" (Official Video)
Offset announced last week that he would be releasing new music on the 11th November.
The artist, 30, has yet to speak publicly or post to any of his social media accounts on the matter of Takeoff's death.
Scroll Down for Comments and Reactions