SASAMI Questionably Follows Her Dream-Pop Debut With A Singer/Songwriter/Nu-Metal Fusion
News
>
SASAMI Questionably Follows Her Dream-Pop Debut With A Singer/Songwriter/Nu-Metal Fusion
Every now and then, an artist comes along that truly surprises their listeners. Kid Cudi did it with his confusing alt-rock lo-fi record Speedin' Bullet 2 Heaven, Metallica did it with the downtuned ugly sound of St. Anger, and classic artists like David Bowie and Bob Dylan did it countless times. Now, seasoned musician Sasami Ashworth follows an unassuming indie rock debut with an interesting mix of influences. To name a few, she quotes her sophomore record Squeeze as being inspired by Fleetwood Mac, Sheryl Crow, and... System of a Down. Needless to say, the results were a bit shocking.
The startling choices begin on Squeeze right with track #1. On 'Skin A Rat,' Ashworth leans unmistakably towards a heavy metal sound, rejecting her past aesthetic with about as much opposition as one could muster. Interestingly, the next track 'The Greatest' immediately shifts towards those other influences, and remarkably this song and others on Squeeze occasionally lean towards a country-rock twang. Thankfully, her attempts to separate these sounds come across effectively as genre experimentation with catharsis; unfortunately, her attempt to meld them are not as successful, with songs like 'Say It' and many following tracks trying to chug along with an industrial sound before drastically shifting into a Sheryl Crow chorus.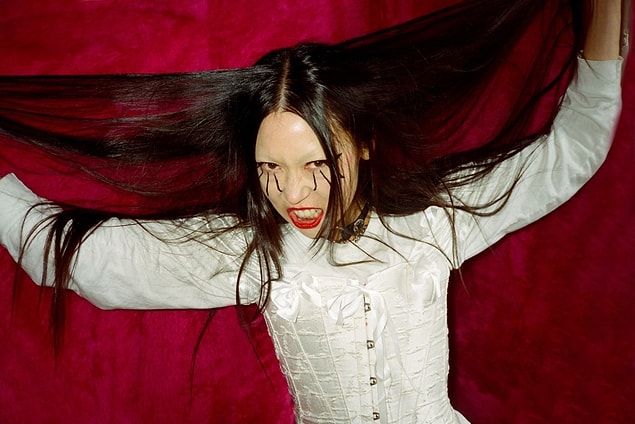 The Verdict on 'Squeeze'
Ultimately, both SASAMI records even out to nearly the same ranking, with Squeeze just a hair below its predecessor. Where the first was a bit indistinct, her new record is too distinct; where the self-titled debut was restrained, the follow-up is often too excessive. While there is of course something to be said about the unbridled channeling of rage and raw emotion in your album, to most Squeeze will just prove yet again that this is an artist that still has not found their sound.
Rating: 6/10
★★★★★★☆☆☆☆
Tracklist