Preschool Animated Series 'Chip and Potato' is Heading Netflix on March 2022 for its Third Season: We'll Giving You What We Know So Far
News
>
Preschool Animated Series 'Chip and Potato' is Heading Netflix on March 2022 for its Third Season: We'll Giving You What We Know So Far
'Chip and Potato' is a preschool animated series that will premiere on Netflix on March 8th.
What is 'Chip and Potato' all about?
Chip, a young pug who confronts obstacles in kindergarten and embarks on the new stages of her life. There to help and comfort Chip whenever she needs it is her best friend Potato; a snuggly 'toy' who she snuggles in her pocket. and Potato, However, Potato is actually a real, living mouse who must be kept a secret.
In its third season, Chip and Potato follows a loving pug named Chip as she begins school, finds new friends, and tries new activities with the help of her hidden mouse sidekick Potato. The show contains gender-neutral restrooms and same-sex Zebra parents.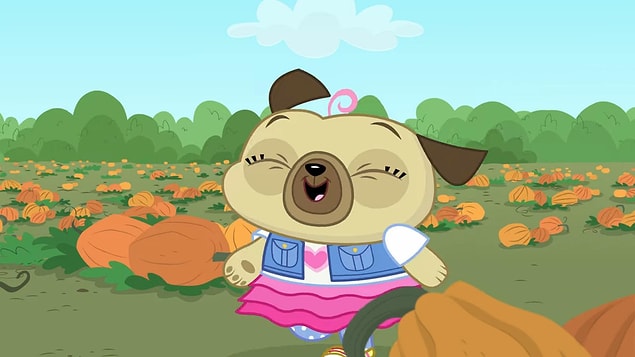 When will 'Chip and Potato' be released?
On October 15, 2018, it aired for the first time on Family Jr. On May 17, 2019, Netflix published the first twenty episodes of the series (issued in two portions per episode) of the preschool animated series from David Rudman. On November 29, 2019, Netflix released the second half of the season, dubbed 'Family Jr.' Now, 'Chip and Potato' returns for its third season on Netflix on March 8th, 2022.
Who are the voices and characters behind 'Chip and Potato'?
Main characters:
Chip Pug (voiced by Abigail Oliver), is a friendly, curious, and big-hearted five-year-old pug girl. Potato (voiced by Andrea Libman) is Chip's best friend, who is a tiny mouse.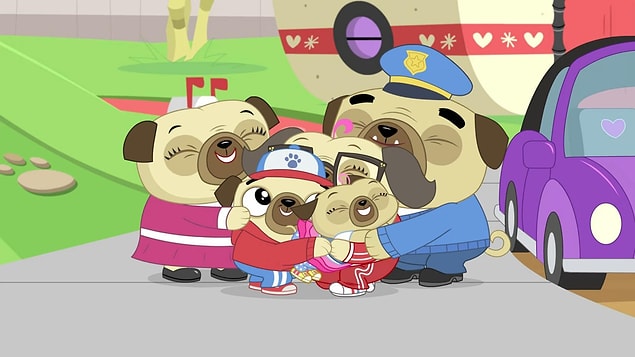 Supporting characters:
Spud Pug (voiced by Chance Hurstfield) is Chip's older brother. Little Momma Pug (voiced by Briana Buckmaster) is Chip's mother. 
Little Poppa Pug (voiced by Brian Dobson) is Chip's father. 
Nico Panda (voiced by Dominic Good) is a panda and Chip's best friend. 
Totsy Tot Pug is Chip's baby sister. 
Grandma Pug (voiced by Christina Jastrzembska) is Chip's grandmother. 
Stomp and Stamp Fant (voiced by Evan Byarushengo and Scotia Andersen) are a pair of twin elephants. They are Chip's friends and neighbors. 
Amanda Panda (voiced by Teryl Rothery) is Nico's mother. 
Bodi Panda is Nico's baby brother. 
Mr. Diggerty (voiced by Alessandro Juliani) is the kindergarten teacher of Rainbow Forest School and teaches Chip's class. 
Gigglish Grand (voiced by Emma Jayne Maas) is a giraffe and is one of Chip's friends and neighbors. 
Howie Hyena (voiced by Brenden Sunderland) is a hyena. He is a mischievous kindergartener at Rainbow Forest School.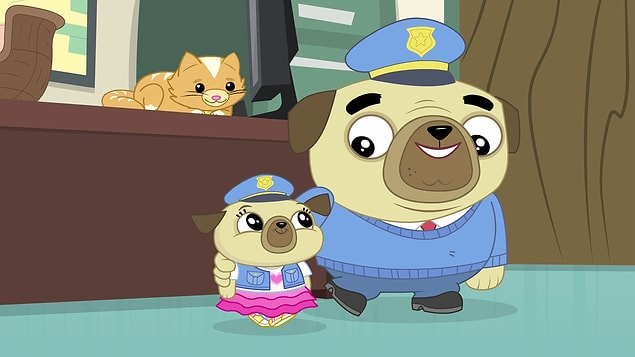 'Chip and Potato' Showrunners
Billy Macqueen, Catherine Williams, and Maddy Darrall produced the animated children's television series Chip and Potato. Darrall Macqueen and WildBrain Studios collaborated on the series.