News
PJ Masks (Season 4) – Animated kids series coming to Netflix
PJ Masks (Season 4) – Animated kids series coming to Netflix
'PJ Masks' is a computer-animated superhero children's television series that fights crime at night to keep it from ruining people's days. 
'PJ Masks' Season 4 was announced on June 5, 2019. Filming began on November 1, 2018 and ended on November 30, 2019. It was originally scheduled to launch in April 2020, but was pushed back to May 15 owing to the COVID-19 epidemic. It began with a four-part story arc and concluded with a two-part story arc on June 7, 2021.
Release Date in Netflix
'PJ Masks' Season 4 drops on Netflix on May 15th. Watch the trailer below:
Production Details
Frog Box, Entertainment One UK Limited, Walt Disney EMEA Productions Limited, and TeamTO are the producers of 'PJ Masks,' which also features France Télévisions and Disney Junior. The series is based on Romuald Racioppo's Les Pyjamasques book series. 
The series has been broadcast on Disney Junior in the United States since September 18, 2015, and on France 5 and Disney Junior in France from December 18, 2015. On February 7, 2016, Disney Junior premiered in Canada. A second season was confirmed in June 2016, and it premiered on January 15, 2018. The first episode of the third season premiered on April 19, 2019. 
The fourth season was supposed to premiere in April 2020, but instead premiered on May 15, 2020, presumably as a result of the COVID-19 epidemic, which cut Entertainment One's produced/acquired television half-hour content from 339 in 2019 to 276 in 2020 during the second quarter. PJ Masks was renewed for a fifth season on January 28, 2020, and will air on August 13, 2021, with production taking place between April 1, 2020 and April 1, 2021. PJ Masks was renewed for a sixth season on June 18, 2021, with production shooting beginning that day.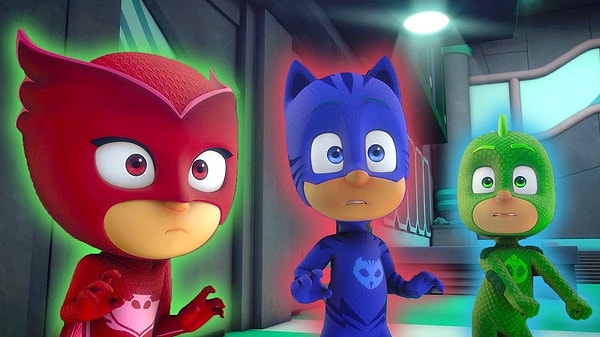 'PJ Masks' Cast and Characters
PJ Masks
Connor / Catboy (voiced by Jacob Ewaniuk in Season 1, Jacob Ursomarzo in Season 2–'Best Friends Forever', Roman Lutterotti in 'Meet An Yu'–Season 4, and Evan O'Donnell in Season 5–present) – Connor has brown hair and blue eyes. He wears a blue cat outfit when he transforms. Super speed, super sensitive hearing, a high jump, and strikes are among his abilities.
Amaya / Owlette (voiced by Addison Holley) – Amaya has brown eyes and wears glasses. Her dark brown hair is styled in a wing-shaped pink hair clip. She dresses up as a red owl when she changes. Night vision, flight, the capacity to create a strong blast of wind from her wings, and super feathers are among her abilities.
Greg / Gekko (voiced by Kyle Harrison Breitkopf in Season 1–Season 3 and the short films and Benjamin Hum in 'HQ Tour' and Season 4–present) – Greg has green eyes and blonde hair. He wears a green lizard suit with a lengthy reptilian tail and fins on top of his head when he transforms. Super strength, invisibility (though some may notice abnormalities in the backdrop), scaling on walls, and shields are among his abilities.
PJ Robot (voiced by Juan Luis Bonilla) – A robot in command of the PJ Masks' headquarters, which was originally built by Romeo to spy on the heroes but defected and switched sides.
PJ Pets (actors unknown)
Alley Cat, Owly, and Lionel 
PJ Riders (actor unknown)
Cat Stripe King, Eagle Owl, and Power Lizard 
Allies
Teeny Weeny Ninjalino (voiced by Rob Tinkler) – From 'Catboy and the Teeny Weeny Ninjalino,' a little and adorable ninja who was supposed to spy on the PJ Masks but instead won Owlette and Gekko's hearts.
Armadylan (voiced by Max Calinescu in Season 2–'Armadylan Zen', Cristian Perri in Season 3 'Arma-Leader'–'Gekko Everywhere', Avery Esteves in Season 4 'Master Fang's Secret'–'Gekko Vs Armavillain', and Christian Campbell in Season 4 'Octobella's Garden'–present) – A strong armadillo-like youngster who aspires to be a hero, but his inexperience allows him to make mistakes, particularly when he loses control of his rage after being duped by some criminals. 
An Yu (voiced by Kari Wong) – A samurai girl who can wield her bo staff as a weapon or to fly; it can also be transformed into a magical flute, and it is the source of her abilities. 
Newton / Newton Star (voiced by Shomoy James Mitchell) - A space child who survives an asteroid collision. 
Villains
Romeo (voiced by Alex Thorne in Season 1, Carter Thorne in the short films and Season 2–'Owlette Slips Up', Simon Pirso in 'Motsuki the Best'–Season 4, and Callum Shoniker in Season 5–present) – A crazy scientist who aims to rule the world with all of his creations, and the series' major enemy.
Robot (voiced by Ron Pardo) - A robot that is Romeo's henchman.
Robette (voiced by Kirrilee Berger) - A female counterpart of Robot.
Toolbox – A walking toolbox who works with Romeo and carries Romeo's tools when constructing innovations.
Spy-Bot – Spy-Bot is a cubical bot that works for Romeo and is frequently used to spy on the PJ Masks.
Fly Bots – Romeo's Sky Factory is regularly guarded by little, flying robots that resemble PJ Robot before he reformed.
Naughty Bots -Naughty Bots are robots dressed as presents who demolish anything Christmas-related, including presents and decorations.
Robo-PJ Masks - They all have the same powers as the PJ Masks, but with the addition of Laser Eyes, which prevent the adversaries from moving.
Luna Girl (voiced by Brianna D'Aguanno) – A lunar villain with platinum blond hair who lives in a lunar palace.
Motsuki (voiced by Hattie Kragten) - Luna Girl considers an anthropomorphic moth to be her younger sister. 
The Moths (voice actors unknown in Season 1–2 and Hattie Kragten in Season 3–present) - The minions of Luna Girl.
Night Ninja (voiced by Trek Buccino in Season 1, Devan Cohen in the short films and Season 2–'Do the Gekko' and Jacob Soley in 'Armadylan, Action Hero'–present) – A ninja who leads a pack of Ninjalinos and is the third main villain of the series. 
Ninjalinos (voiced by Rob Tinkler) - The foot soldiers of Night Ninjas.
The Wolfy Kids - Usually referred to as 'the Wolfies', Rip (voiced by Shechinah Mpumlwana in Season 2 - Season 4 and TBC in Season 6-present), Howler (voiced by Kaden Stephen in Season 2–'Wolfies of the Pagoda' and Matthew Mucci in 'Munki-gu in the City'–'Battle Of The Fangs' and TBC in Season 6-present), and Kevin (voiced by Ethan Pugiotto in Season 2 - Season 4 and TBC in Season 6-present) are a trio of werewolf siblings who like to cause mischief. 
Octobella (voiced by Michela Luci) – An octopus-girl who dwells in the moat's lair. 
Percival (voiced by Rob Tinkler) - A mumbling lobster who is Octobella's henchman.
Munki-gu (voiced by Daniel Pathan) – A mischievous little monkey who enjoys causing mischief, playing games, and playing practical jokes on others. 
Pharaoh Boy (voiced by Logan Nicholson) - A magical young pharaoh who entered the museum through a gateway. 
Orticia (voiced by Markeda McKay) - A mysterious young lady who cultivates terrifying plants. She was created by Romeo, and she was furious with the PJ Masks when they crossed her garden, and she was defeated.
Pirate Robot (voiced by Wyatt White) - Romeo inadvertently programs a robot to find fantastic treasures like a genuine pirate. Owlette is referred to as his pirate queen by him.
The Speedy Twins - Carly (voiced by Emma Ho) and Cartoka (voiced by Ian Ho) are Catboy's arch-enemies are a pair of twin fast twins. They have a Flashcar as well as PJ Mask's three original cars.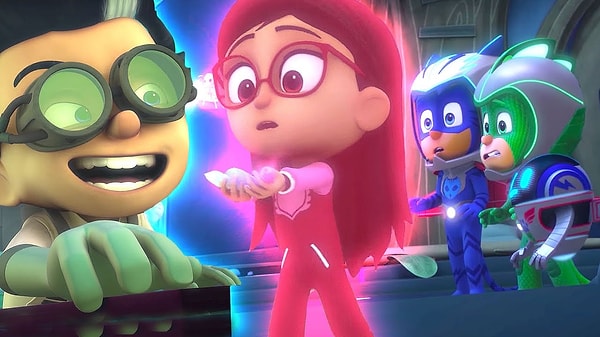 Are you looking forward to watching 'PJ Masks' Season 4 on Netflix on May 15th? Drop your comments below.
Scroll Down for Comments and Reactions