News
Peacock Boots This Popular Teen Drama Series After Season Two Cliffhanger Ending
Peacock Boots This Popular Teen Drama Series After Season Two Cliffhanger Ending
Peacock joins its streaming competitors Netflix and HBO Max in the axing trend as it recently canceled the hit murder mystery series, One of Us is Lying after only two seasons, leaving fans flabbergasted. 
The teen drama show, which airs via Peacock in the U.S. and via Netflix in the U.K., saw its 16th and apparently last episode launch on October 20, last year, ending on a massive cliffhanger and viewers yearning to find answers in a third season. Unfortunately, dreams have been crushed, and hearts are broken.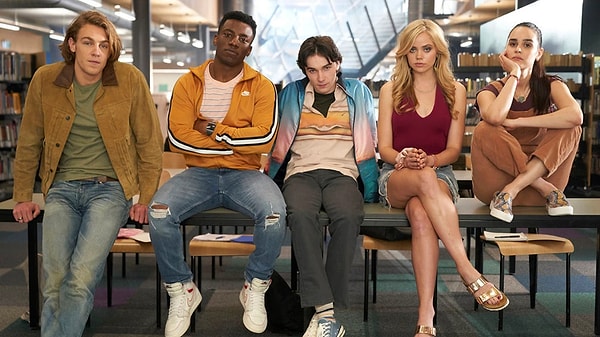 How Does the Creative Team Take the Cancelation of 'One of Us in Lying'?
Showrunner Erica Saleh confirmed Peacock's decision to pull the plug on the programme on Twitter and expressed her disappointment. She further thanked the fans for their support of the show. 
She wrote, "Making two seasons of One of Us is Lying was an honor and a joy. I'm disappointed that our story won't continue on Peacock, but I feel so lucky to have spent the past years alongside the best writers, cast and crew I know, and so grateful to our fans for all the love and support.'
One of the writers, Rick Montano, also voiced his sadness for the series meeting an untimely demise and expressed his wish to give the audience a conclusive ending to the story. 'Y'all deserved an ending, and I wish we could have given you one. It was going to be awesome,' he indicated.
Why Did Peacock Cancel 'One of Us is Lying'?
The reasons for Peacock choosing to boot One of Us is Lying are somewhat unclear, but the streamer's executives consider the viewing statistics too low to guarantee renewal for the third season. 
However, FixPatrol figures show otherwise, as the programme was among the top 10 shows in around 77 countries, retaining the top 10 position for more than a month in 44 territories.
'One of Us is Lying' Premise
One of Us is Lying follows five high school students who enter detention, and one of them dies suspiciously, sparking an investigation. 
Occupying the primary roles are Mark McKenna, Annalisa Cochrane, Chibuikem Uche, Marianly Tejada, and Cooper van Grootel. The supporting stars are Sara Thompson, Barrett Carnahan, Alimi Ballard, Jessica McLeod, and Melissa Collazo.
'One of Us is Lying' Could be Picked up By Another Platform
All could not be lost for the series as another platform may pick it up for production from Peacock. Netflix, for example, took over the production of the musical series Girls5eva in October last year after it was axed by Peacock following its second season. 
Fans can only cross their fingers and pray that the stars align for their beloved TV show to find a new home.
The first two seasons of One of Us is Lying are available on Netflix, each comprising eight episodes.
Scroll Down for Comments and Reactions