News
Peacock Adds to its Crime Thriller Section 'Leopard Skin' Season One
Peacock Adds to its Crime Thriller Section 'Leopard Skin' Season One
For the past two years, Peacock has been delivering its streaming service duties excellently with top-notch shows and movies. 
The most recent addition by the streamer is Leopard Skin, an eight-episode project directed by Sebastian Gutierrez. 
Leopard Skin joins other Peacock-crime shows of 2022, like Irreverent, The Capture, The Calling, and A Friend of the Family, among others.
About 'Leopard Skin' Season One
Leopard Skin follows a criminal gang that seeks shelter in Batty and Alba's beach estate in Playa Perdida, Mexico after their jewelry heist goes sour. Not long after the incident, Batty, played by Gaite Jansen of Peaky Blinders and Alba, played by Carla Gugino of The Haunting of Bly Manor receive two guests who had come for dinner. 
They are all taken hostage as everyone awaits their fate. While in captivity, the gang forces its victims into illegal dealings, betrayal, deathful secrets, terrifying desires, and more misfortunes.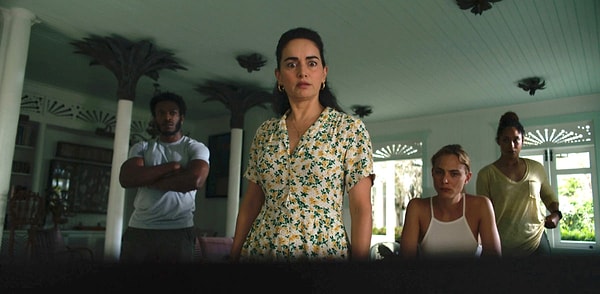 'Leopard Skin' Trailer
Peacock's official trailer offers more details concerning the upcoming Leopard Skin season one. The trailer, which is 1 minute and 21 seconds long, starts with one of the gang members explaining to their boss that they were ambushed before escaping into a beach home owned by two ladies. When no one can be trusted, it's everyone for themselves. 
Although Leopard Skin hasn't been rated yet, there seem to be some sexual and crime scenes in the show.
Who Produces 'Leopard Skin'
Leopard Skin is directed by Sebastian Gutierrez, who also chief produces alongside Carla Gugino, Miguel A. Palos, Lourdes Diaz, and Stuart Ford. 
The series is an AGC Television project.
Cast Members
The series' main characters include Carla Gugino portraying Alba Fontana, Gentry White impersonating UnREAL, Amelia Eve depicting Maru, Philip Winchester representing Max Hammond, Nora Arnezeder acting Sierra Loba, and Gaite Jansen playing Batty. 
Other characters include Ana de la Reguera acting Inocencia, Jeffrey Dean Morgan, and Margot Bingham playing Clover Braun.
When Does 'Leopard Skin' Premiere?
The first season of Leopard Skin will launch on Thursday, November 17th, with eight episodes. 
Peacock charges $4.99 and $49.99 for monthly and yearly subscriptions, respectively, alongside a premium option of $9.99.
Scroll Down for Comments and Reactions